Olympics canoe slalom: Etienne Stott helped by Lee Valley training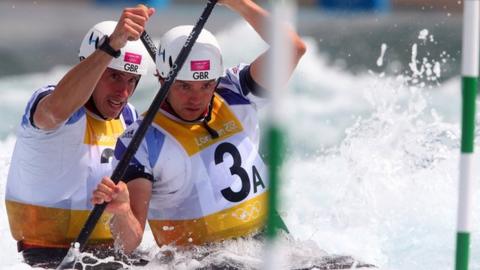 Etienne Stott believes months of training on the Olympic course at Lee Valley helped both he and team-mate Tim Baillie win C2 gold at London 2012.
The pair became in canoe slalom.
"Preparing on the course does give you an advantage, in terms of knowing the character of the water," he said.
"But the gates are positioned on the day and, by the second run, people know what's going on, where the gates are and they've seen the other races."
Stott added: "By the time the final comes, it's all systems go and it's just a straight race.
"We moved down there about 18 months ago to train there, with the idea of specifically getting ready for the Olympics. As it turned out, due to injuries and other problems, we've trained there a lot less than we had intended to originally."
Baillie and Manchester-born Stott were the slowest of the six crews to qualify for the Olympic final, and after posting an exceptional time, they faced an agonising wait to discover if they had won a medal.
They remained quickest when the last pair, fellow Brits , with fellow Brits David Florence and Richard Hounslow, began their final run, meaning one of the British crews were guaranteed a gold medal.
And it was Stott and Baillie who came out on top, with their British rivals claiming silver, becoming Britain's third gold medallists of the Games.
As well as being aided by training on the course, Stott says working with a psychologist prior to the Olympics helped him to achieve success at London 2012.
He told BBC Radio Manchester: "She worked with us to make sure we framed the race in a way that gave us the optimal chance of being able to focus clearly on the one thing that we practice, which is canoeing.
"To be able to focus through all of those distractions; the noise, the event and the atmosphere, it's completely different from the skill of negotiating the water and the gates.
"We were sat on the start line with a very clear idea of what we wanted to do on the course. We were so determined and so focused."