Percy Hodge: Channel Islands' first Olympic medallist
Last updated on .From the section Olympics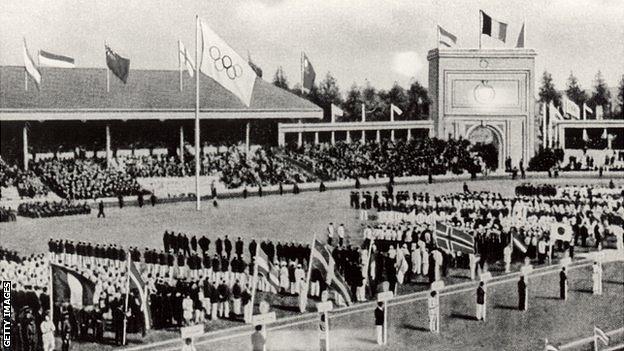 Victory in the team dressage at London 2012 has doubled the number of Olympic medals won by Channel Islands competitors.
Carl Hester from Sark, Charlotte Dujardin and Laura Bechtolsheimer won GB's 20th gold with the top average score at Greenwich Park on Tuesday.
It was 92 years earlier that another islands athlete was awarded gold.
Percy Hodge ran the 3,000m steeplechase in just over 10 minutes to take first place and set an Olympic record at the 1920 Games in Antwerp, Belgium.
Ray Hollis, author of the History of Guernsey Athletics, told BBC Guernsey that Hodge raced for clubs in the south of England and notched up some impressive steeplechase titles before making the Olympic squad.
He said Hodge's later achievements included representing England against France and setting a world record for the one mile over 33 hurdles event at Stamford Bridge.
Hodge was well known for his unusual style of hurdling, which he demonstrated by carrying a bottle and glasses on a tray across obstacles.
Some reports differ as to on which island Hodge was born, but his official birth record shows he was born in Les Banques, St Sampson, Guernsey on 27 December 1890.
According to the 1901 census his father, William John Hodge, was a shoemaker or leather worker from Somerset and his mother, Hermione Hodge, was from Herm.
His family, which also included his older brother William, had by this point moved to Vale Road.
Hodge had moved to Bath, Somerset by the time of the next census in 1911.
He was 29 years old when he represented Great Britain at the Olympisch Stadion, which is the modern day home of Beerschot AC.
Britain was one of just 29 nations taking part, compared to the 204 nations which competed at the 2012 games.
As well as being the first games in which a Channel Islands athlete won a medal, the 1920 Olympics was also the unveiling of the five rings logo and the first time the Olympic oath was sworn on behalf of the athletes.