Olympics: Sport Scotland seeks legacy for Commonwealth Games
Last updated on .From the section Olympics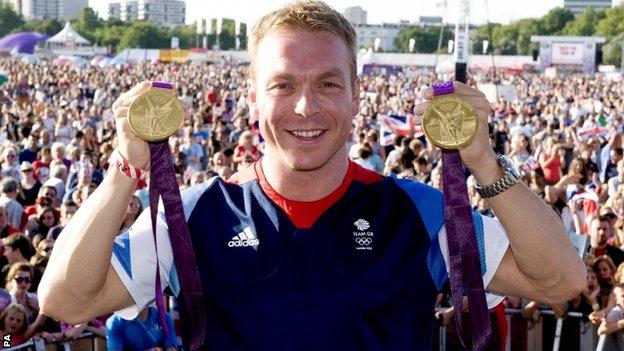 Scots athletes must not rest on their Olympic laurels as they look ahead to the Commonwealth Games, according to Mike Whittingham.
The performance director at Sport Scotland said the medal haul surpassed his pre-Olympic expectations.
Scotland won 13 medals, with Sir Chris Hoy winning two golds.
"Sometimes in home soil Games, there's a danger to assume you're going to do well as a host country," said Whittingham.
"We must ensure, for Glasgow, that we don't assume; we've got to make things happen.
"The athletes made things happen in London, but behind the scenes there's a world class system that helped the athletes deliver what they wanted to do themselves.
"That's our job; at Sport Scotland, we're building a world-class system. I don't think we're there yet, but we've got two years to take a number of messages from London."
Track cyclist Hoy contributed two of seven golds for Scotland, with Andy Murray winning the tennis singles.
Katherine Grainger and Heather Stanning won rowing events, while canoeist Tim Baillie and showjumper Scott Brash also landed golds.
Ho's successes in the keirin and men's team sprint make the 36-year-old from Edinburgh Britain's most successful-ever Olympian - with a total of six golds and one silver medal.
The seven gold medals equals the number won by Scots in Stockholm 100 years ago, but the overall tally makes it the best-ever performance.
"No one imagined that Great Britain would end up with that number of medals, particularly 29 golds," said Whittingham.
"Behind the scenes, people were hoping for 60 medals, but no-one imagined 29 golds.
"It was a formidable result and one which we should just enjoy, because I don't think it will ever be this good again.
"What the Games really confirmed is the power of sport and this is something, not just about medals and medallists.
"The athletes have made this happen and should take all the credit."
There were disappointments for Scotland in London, with David Florence failing to make the final of the slalom canoe C1 before his silver in the C2.
Garioch swimmer Hannah Miley had medal hopes in the 400m individual medley but had to settle for fifth place in the final and experienced judo player Euan Burton crashed out after his first match.
"There will be reviews and every sport is already starting those reviews," added Whittingham.
"Mo Fara didn't qualify for the final in Beijing.
"Four years later, he comes back and wins double gold. We need to learn from that and athletes will learn from that.
"We had young athletes who did really well to make the team and it's our job to turn that into a much stronger result in Rio and hopefully, before then, at the Commonwealth Games."