Perri Shakes-Drayton aims to improve after Olympic frustration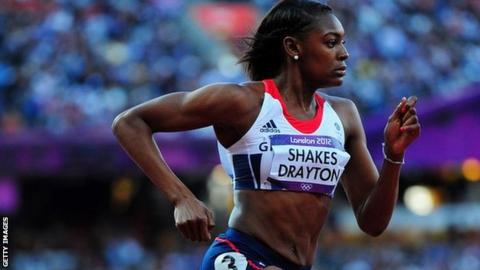 London runner Perri Shakes-Drayton is determined to return stronger after disappointment at the Olympics.
The 23-year-old missed out on a place in the 400m hurdles final after finishing third in her semi-final heat.
"I didn't get to prove [myself] or show what I'm capable of doing," she told BBC London 94.9.
"I've got to remind myself that I'm a talented athlete. I've got it, it's just at the right time I need to deliver and produce it."
She added: "Yes I'm being hard on myself, but that's how most world-class level athletes are."
Shakes-Drayton had been in fine form ahead of London 2012, running a personal best to take victory in the Diamond League meeting at Crystal Palace last month.
The east Londoner thought she had a place in the Olympic final after the Czech Republic's Denisa Rosolova was thrown out of the competition for running out of her lane.
However she lost her spot after the Czech runner succesfully appealed against her disqualification.
"I thought I was in good shape but things happen and it didn't go my way," she said.
"It did hurt but nothing can be done and I have to deal with it.
"I just can't let it get to me too much. If anything, it's made me stronger and I want it even more.
"The years go on and hopefully I will redeem myself."
Shakes-Drayton, who represents Victoria Park and Tower Hamlets, is now turning her sights to a strong performance at next year's World Championships in Moscow.
"You've got to take things step-by-step," she continued.
"Next year I want to be running quicker. Everyone's talking about Rio de Janeiro [Olympic hosts in 2016] but there's loads of things before that so I won't be getting ahead of myself.
"I need to make sure that each year goes right and each year you have a good winter.
"I need to bounce back and be ready for the long process. I have to have patience and stay level-headed.
"I've got a hunger to go out in my next competition at the World Championships and do something there."