London 2012: Diver Jack Laugher turns attentions to Rio Olympics
Last updated on .From the section Olympics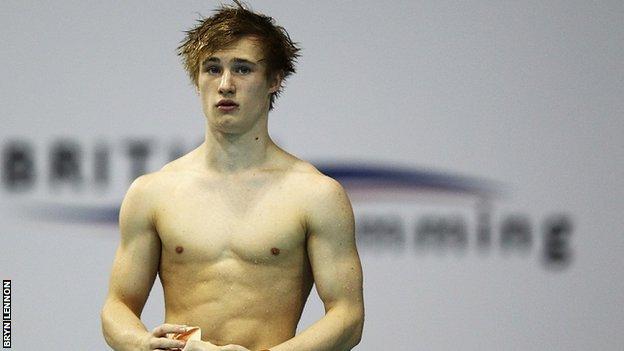 Diver Jack Laugher is already turning his focus to the next Olympics after a disappointing Games in London.
The 17-year-old from Ripon failed to qualify for the semi-finals in the 3m springboard event.
He told BBC Radio York: "2016 is when I'm going to be at my peak performance, I hope.
"In the next couple of years I've got the World Championships, I've got the World Cup in 2014 and I've got the Commonwealth Games as well."
The City of Leeds diver was the youngest person in his competition and struggled for his best form in the Aquatics Centre, culminating in a disastrous final dive.
Despite not recording the performance he had hoped for, the teenager has taken the positives from his first Olympics.
"The experience was unforgettable, totally brilliant but the competition didn't go the way I wanted it to go," he added.
"To be honest this Games was just a way to get experience and I've done that. I have to make sure that I don't make the same mistakes again.
"I'd been performing really well in all my other competitions so I suppose it was destiny that I'd have my bad performance there. It was a real shame but I can't do anything about it now."
The two-time European and world junior champion will be competing in the World Junior Diving Championships in Adelaide, Australia in October.