Harry Brokking leaves role as Great Britain volleyball coach
Last updated on .From the section Olympics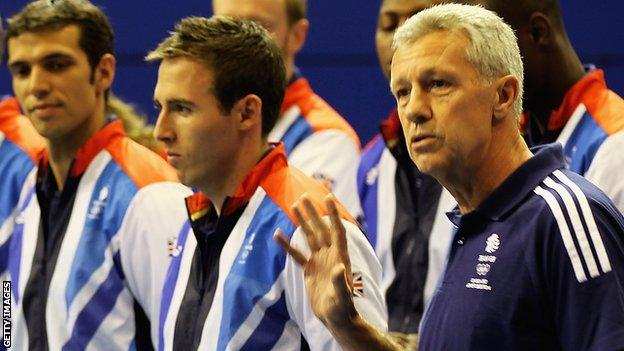 Harry Brokking has left his post as coach of Great Britain's men's volleyball squad because the sport's governing body can no longer pay him.
"Harry has gone, but not because he wanted to. It is because we could not afford him," said British Volleyball Federation president Richard Callicott.
Brokking will now coach in Tunisia.
"Depending on circumstances, Harry would like to come back next year and carry on the work he has done, but unless we get more funding, we cannot afford to pay him," added Caldicott.
Brokking's assistant Joel Banks will coach Britain at the forthcoming European Championships.
Volleyball received around £3.5m in funding from UK Sport in the years leading up to London 2012, but how much it will allocated ahead of Rio 2016 has yet to be decided.
The government announced last weekend that financial backing for Britain's Olympic sports will be extended to the 2016 Games in Brazil.