Olympics: Government puts clubs at heart of legacy plans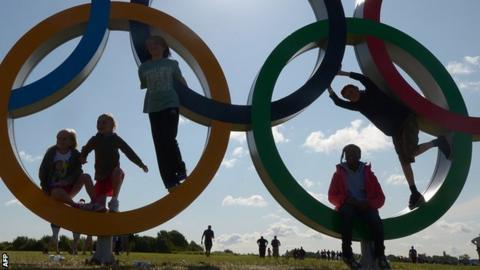 The government will seek to build a participation legacy from London 2012 by creating closer links between sports clubs and schools.
Thirty of the 46 sports currently funded by the government's agency for grassroots sport have applied for cash to set up new "satellite clubs".
These are intended to bridge the gap between schools and community sport.
"We want more young people doing sport as a habit for life," said Culture Secretary Jeremy Hunt.
"That means better provision of sport in our schools, and more particularly making sure people don't drop sport when they leave school."
Almost £50m has been set aside to fund the plan, from a total Sport England budget of £1bn.
"What we've said is that all sports getting funding will have to set up satellite clubs in secondary schools," continued Hunt.
"Our objective is that every school will have two or three of these clubs, and the beauty of this is that you will continue to be a member when you leave school.
"That way more people will continue to play and they'll already be integrated with local leagues. School sport and youth sport will be one and the same thing."
The government signalled a shift in emphasis earlier this year, with the national governing bodies (NGBs) of sports now being asked to target more resources at those aged 14-25. The intention is to address the historic "drop-off" in participation that occurs when people leave education.
Sport England distributes about half of its budget, which comes from a mix of public and lottery money, directly to the NGBs via four-year agreements called "Whole Sport Plans" (WSPs).
The deadline for applications for 2013-17 grants has just passed and the sports are waiting for feedback from Sport England before the final allocations are announced in December. About 60% of the total WSP pot will be directed at the priority 14-25 age group.
Tackling the "drop-off" problem has been broadly welcomed by the British Olympic family, although some NGBs have voiced concerns that clubs need more help if they are to deliver the goal of a fitter, more cohesive and sportier nation.
"If we don't get club sport right, we can forget about getting school sport and elite performance right," said Tim Lamb, the chief executive of the Sport and Recreation Alliance (SRA), an organisation that lobbies on behalf of 300 NGBs and representative bodies.
"Our athletes don't simply step out of school and into Team GB kit. They enter into the world of club sport where they get the coaching, competition and the access to facilities that they need.
"But clubs are facing all kinds of challenges, from managing their finances through the recession, to dealing with punitive tax burdens."
Lamb's words echo comments made by a number of sports to the BBC about the difficulties their member clubs face, particularly access to and cost of facilities, rising tax bills and "health and safety" red tape.
Two tax-related measures the government could take are reducing the amount of VAT payable on the hire of facilities, and allowing clubs to claim Gift Aid on junior subscriptions, as is the case elsewhere in the leisure sector.
The European Union recently granted members the right to reduce the amount of tax they charge on these transactions and nine countries have done so. The UK is yet to announce any plans to follow suit.
As one leading sports lobbyist told the BBC: "We have always said it is better to have a sports fan in the Treasury, than one in the Department for Culture, Media and Sport."