Kristian Thomas 'overwhelmed' by Olympic experience
Last updated on .From the section Olympics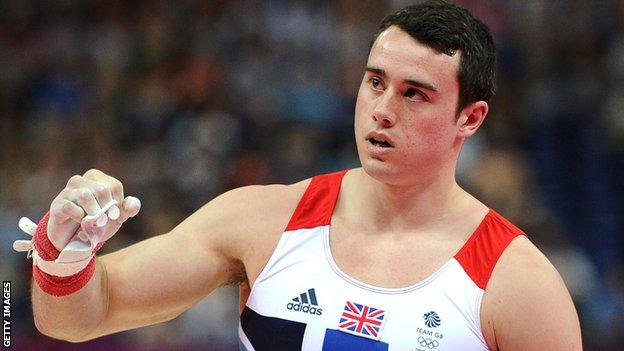 Olympic bronze medallist Kristian Thomas says he has been "overwhelmed" by his experience of London 2012.
And despite missing out on medals in his individual events, he says the team's achievements have not sunk in.
He told BBC WM: "The Olympics is what I've been working towards for the last 18 years - I'm completely overwhelmed by the whole experience at the minute."
The 23-year-old continued: "I think maybe in a few months' time when I get back into the gym and training it might start to sink in."
Thomas was part of the British gymnastics squad who far surpassed their UK Sport target of one to two medals, leaving London with with an impressive tally of one silver and three bronze medals.
He was credited with driving the British team towards one of these bronze medals alongside Louis Smith, Sam Oldham, Kristian Thomas, and Dan Purvis.
Following on from the successful games, Thomas now says he is looking forward to a rest from the team's heavy schedule.
"I'm going to have a bit of down-time, go on holiday with a few of my friends and my girlfriend, and have a much-needed rest," said Thomas.
"I think my mind and body needs to recover from the years of just being in the gym day in, day out.
"After that it's getting back into the gym and doing what I do best, training hard and looking towards some competitions at the end of the year."
And Thomas says he hopes that the performance of the British gymnastics team will ensure a lasting legacy in terms of participation due to the increased coverage the Olympics brought.
"I really hope it can make British Gymnastics a bigger organisation and a bigger sport.
"It's a great sport to be part of but obviously we've never had the sort of media attention.
"I think what the Olympics is about is inspiring a generation, and I think if we can do that and more people get involved then it can only bode well for the future of the sport."