Alistair & Jonny Brownlee reveal pensioner's £10 gift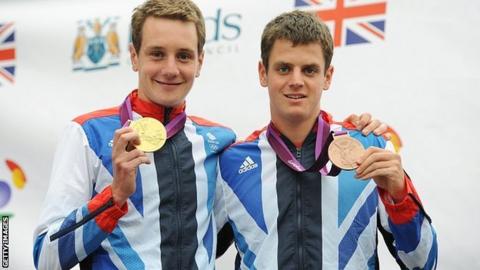 The Brownlee brothers have revealed an 89-year-old man sent them a letter after their heroics at the Olympics - including a £10 note for each of them.
Alistair won gold and younger brother Jonny won bronze in the triathlon in London and tens of thousands welcomed them home to Leeds on Monday.
But it was the letter from the pensioner that touched them most.
"He wrote that he had watched us and that it was one of the best things he had seen in his life," Alistair said.
"He also included a tenner for both of us and said that he wasn't putting his name or address on it so that we couldn't send it back!
"I don't know what I'm going to do with it yet. I've been so busy with media and everything else since that I haven't had a chance to do anything with it.
"I've had the letter in one pocket and my gold medal in the other."
Both brothers have had little time to dwell on their Olympic success, with Alistair due to fly to America for a triathlon next month and Jonny competing in Stockholm next week.
"It's been pretty hectic since [the Olympics]. We've only had a brief chance to see our parents," Alistair added.
"I've started training again and initially it is quite easy because you get back into a bit of normality.
"Then as you start to do a bit of harder training you do think 'this is hard work'."
Jonny, 22, admitted life after the Olympics was a "massive comedown", with him planning to move out of the house he has shared with Alistair for the past three years.
Jonny said: "It's hard to get back into training but it is what I love to do. Then I've got the house - I've actually got no furniture so I'm going to have to sort that out.
"I'll be looking for a few freebies off my family and friends to start off with. Maybe my new fame will help too."