Nigeria's success in turning silver into gold
By Stephen Dowling
BBC News
Last updated on .From the section Disability Sport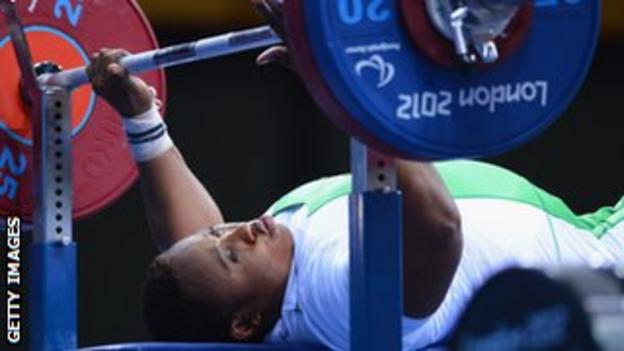 Nigeria came back from the Olympics without a single medal, but their Paralympians have picked up a clutch of medals, including several golds.
Why are they succeeding where the Olympians failed?
"It is amusing that even war-torn Afghanistan went away with a bronze medal in taekwondo, a sport in which we had a strong medal hope," wrote Taiwo Gidado in Nigeria's Vanguard newspaper.
"In basketball and the sprints, our athletes were expected to, at least, win a bronze. All hopes were dashed in the few sports in which we competed."
President Goodluck Jonathan called for a complete overhaul of Nigerian sports administration after the Games, saying the country needed to regain its "past glory". It was Nigeria's worst display in the Olympics for 20 years.
Things have been different, however, when it comes to Nigeria's Paralympics team. As of Wednesday, the country's Paralympics team had already won 12 medals, including six golds.
Why is their disabled team getting the golds when their Olympian counterparts can't get on to the podium?
Nigeria's London success comes off the back of a sizeable medal haul at the 2008 Paralympics in Beijing. There, the team won nine medals, including four golds, with six of their medals coming in the powerlifting events.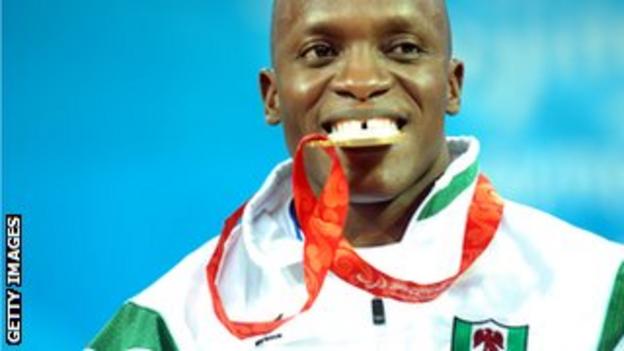 "Team Nigeria was successful in London 2012 because early preparations by the sports commission and government supported them financially with a training tour of more than two months in South Korea," Aliyu Tanko from the BBC's Hausa Service says.
"Based on the fact that most medals won by Nigeria in Beijing were in powerlifting, the country's sports body focused mainly on developing talents in that aspect, and the four silver medals won in powerlifting were converted into gold medals in London.
"So far, the medals won are in the sports they mastered for years, even though many expected the disabled athletes to perform well in wheelchair table tennis."
The Paralympics has "generated a lot of comments and debates in social networks", Mr Tanko says.
"Many are praising the performance of the disabled and criticising the athletes who could not win any medals during the Olympics."
It is hard for any sport to draw attention away from football, which is the most popular game in Nigeria. But success may attract extra funding.
The BBC's Matthew Kenyon watched powerlifting at the ExCel Arena on Wednesday and said the Paralympic team were "very aware and proud of the fact that they've brought a lot of success to the country.
"They're slightly reluctant to get into the whole Olympic/Paralympic comparison but are certainly very aware of it."
He spoke to the country's weightlifting coach Patience Igbiti, who was a medal winner at Beijing. She said: "We are focused and determined.
"All our lifters are disciplined, and we are focused, we know what we are looking for. Our goal here is to get up to nine gold medals.
"We started our training for the Paralympics Games in 2010."