Karina Bryant considers continuing until Rio Olympics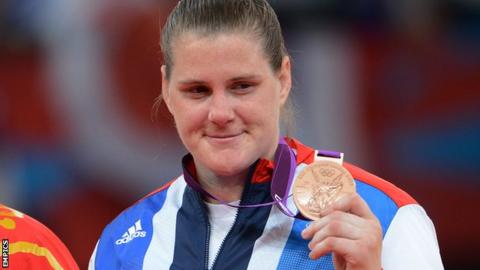 Olympic bronze medallist Karina Bryant says she could carry on competing until the 2016 Games in Rio de Janeiro.
The 33-year-old judoka is set for six months on the sidelines as she recovers from an operation on a neck injury.
She told BBC Surrey: "Having that medal, holding it and looking at it, has made me want to carry on doing it.
"At the moment I need to recover from my neck but after that we'll be sitting down and picking out the goals for the next cycle."
She added: "I definitely won't carry on unless I aim for the gold medal."
Bronze this summer in the +78kg category was the Camberley Judo Club member's first Olympic medal at what was her fourth Games.
"One of the main things that kept me going after Beijing was the fact it was in London," Bryant continued.
"I felt like giving up after Beijing because I thought it was never going to happen for me.
"I had 21 world and European medals but couldn't get it right at the Olympics.
"I decided with my coach I'd carry on, enjoy it, try and do the best I could and have no regrets.
"My dream finally came through."