London 2012: GB rhythmic gymnastics team set to disband
Last updated on .From the section Olympics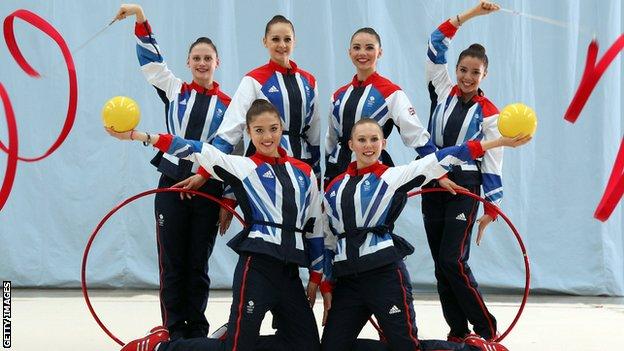 Great Britain's Olympic rhythmic gymnastics team are set to disband because of a lack of funding.
The six-strong squad, who were set up at Team Bath in 2009, self-financed their entry to London 2012.
They were initially denied a place at the Games after falling short of the qualifying mark, but the decision was ratified on appeal.
However, they failed to make an impact in the group event and did not progress to the final.
Team-member Jade Faulkner told BBC Wiltshire: "We've had to split up.
"Unfortunately the funding isn't sufficient so the group can't carry on anymore, and we all had to take a year out of education.
"We will still be training as a group but not as intensely.
"I'll be concentrating on individuals for the Commonwealth Games in two years."
It is not yet known whether British Gymnastics intend to enter a rhythmic team comprising of new gymnasts for Rio 2016.
Faulkner, along with team-mates Rachel Smith, Frankie Fox, Georgina Cassar, Louisa Pouli and Lynne Hutchinson, were the first ever rhythmic gymnastics team to represent Great Britain at the Olympics.
Fox confirmed on Friday that she was to retire from the sport to concentrate on coaching committments, while Hutchinson, speaking to BBC Somerset, was hopeful the remaining competitiors would be able to secure the funding they need to continue.
"It's not that we've pulled out, it's because there's no programme available," she explained. "The funding hasn't been decided for the next four years.
"One of us has retired but a few of us are training for the individuals at the Commonwealth Games - that's our best option at the moment.
"If there was a group plan, then we would obviously reconsider because everyone wants to compete."
The team's entry to London 2012 was surrounded by controversy after they fell 0.273 marks short of the 45.223 qualifying target set by their governing body.
But they appealed the decision, arguing the criteria had not been made clear to them, and an independent arbitrator ruled in their favour.
At the event, they failed to make the final, having finished 12th out of 12 teams in qualifying on 9 and 0 August.