Team GB's party animal Peter Wilson enjoying his success
Last updated on .From the section Shooting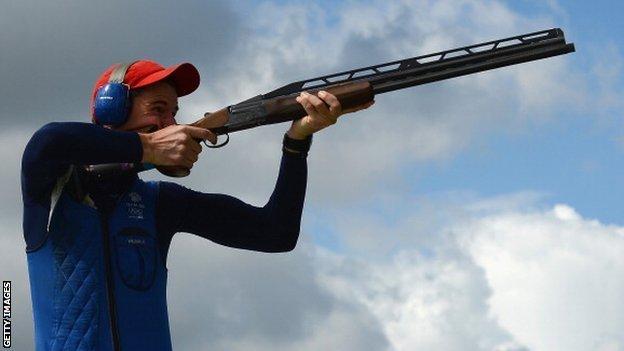 Peter Wilson rattles through the long list of engagements he has attended in the past week, from teaching journalists the finer points of his sport to attending the opening of a gallery.
"It's mind-boggling," the 26-year-old Englishman adds incredulously. "It's only double trap shooting!"
The Olympic champion's social calendar would rival that of a member of the Royal family, even in Jubilee year, which perhaps explains why his mind goes blank when he attempts to remember what he did and whom he spoke to just four days ago.
"What did I do the other day?" he asks himself. He scrambles to reach his diary and, with relief, says: "Oh, yeah, I was filming The Alan Titchmarsh Show. My life is just a blur."
From the moment the 6ft 6in Wilson covering his face with his hands in a forlorn attempt to hide his tears, it was inevitable life would change.
What has surprised this Dorset farmer's son, accustomed to earning £9,000-£10,000 a year from his sport, is the breadth of opportunities at his disposal and the rewards on offer, especially financial.
Wilson's gold medal was one of three won by Britain that day and, given the magnitude of Team GB's Olympic success, it would have been easy to assume he would become one of the forgotten champions, his achievement lost amid the triumphs of higher-profile athletes.
But the double trap world record holder, who describes himself as a "very British Brit", now has an agent, is in negotiations with a gun manufacturer and a clothing company, and is keen to create a brand around himself.
"I didn't realise how much money I could earn from winning gold," says the former Millfield School student, whose progress in the sport had been in serious jeopardy just four years ago after his funding was cut.
The road to success became a little smoother when his parents agreed to fund his training and a Dubai prince, and former Olympic shooting champion, Sheikh Ahmed agreed to become his unpaid coach.
"It's been tough," admits Wilson. "Nine thousand a year is not a great deal of money and that's why it's even more emotional when you win. It changes your life and it's certainly changed mine.
"I've got a new set of goals. My goal before the Olympics was to win gold and be the best I can. Now I wonder how good I can be. Can I be a multiple gold medallist?"
For now, however, the Englishman seems content to put perfectionism on hold. And after six years of his life shooting countless thousands of clay discs in pursuit of sporting success, choosing between attending a movie premiere with an actress or a charity event with royalty must be a welcome change of pace.
"I taught Caroline Chikezie to shoot for the new movie version of The Sweeney," he reveals. "Her agent contacted British Shooting asking if I wanted to walk down the red carpet with her for the premiere, but I'd already committed to attending a charity event with Prince Harry.
"I did manage to get to the aftershow party, though."
In fact, Wilson has not practised at all since winning gold and does not intend to compete until at least March, admitting he has "knocked everything on the head" until January or February to enjoy his success.
And partying is certainly something the Olympic champion has taken to with aplomb over the past six weeks.
He describes the first evening after winning gold as "mundane" and "really sad" because media commitments prevented him from celebrating, but jokes that the following night he saw things "that people should never see" at a Soho nightclub.
"I got a reputation in the athletes' village as being a party animal," he admits. "For four or five days afterwards I had about half an hour's sleep a night and was really ill for about a fortnight afterwards. I was in bed for three days and wasn't up for anything, but it was fun!
"To experience the Olympics in London was just amazing and the parade was awesome. It was the best ending to my Olympic experience that I could have hoped for."
Of course, Wilson will hope London 2012 is just the first chapter of his Olympic tale. When the partying finally stops, there is Rio 2016 to aim for.