Jacques Rogge would welcome another London Olympic bid
Last updated on .From the section Olympics138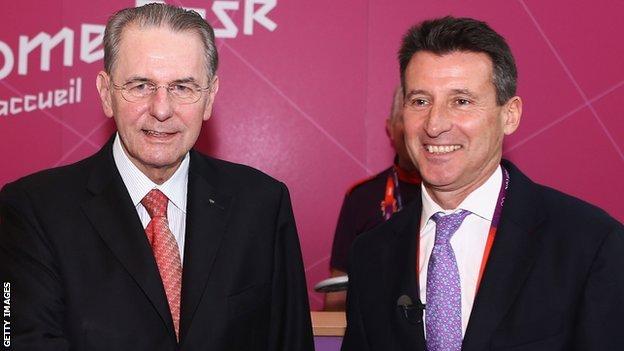 International Olympic Committee president Jacques Rogge has said London could stage the Olympics again in the next 20 years.
And when asked if the games could return to the English capital Rogge told BBC Radio 5 live: "Whether there is a will to do that is another matter, but definitely, that would be possible.
"The IOC welcome good bids irrespective of the place they originate from."
Rogge added: "There will always be a competition between various candidate cities. This is a contest and definitely it remains to be seen whether London would show an interest to bid again, and if that is the case London will have to face other cities.
"I would welcome good bids emanating from as many countries as possible and this includes the United Kingdom."
Rogge also backed the British government to make a success of the Olympic Stadium.
"My view is that what we really need is to ensure that [the Stadium] can be used by communities and not be left as a white elephant and I'm quite sure that my British friends will find a solution for sustainable legacy," he said.
West Ham United are one of four bidders under consideration to lease the £486m stadium and Rogge would have no problem it being used as a football venue.
Rogge added: "As long as the track can be kept, that is the most important thing in terms of legacy for the athletics, But if a football team would come in the stadium, this would guarantee sustainable development."