Olympic Stadium will not reopen until August 2015 at the earliest
Last updated on .From the section Olympics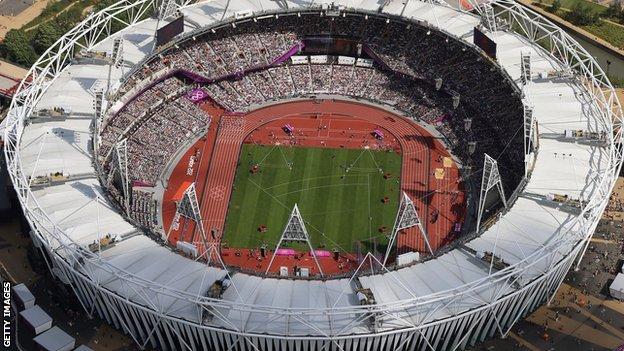 The Olympic Stadium will not reopen until August 2015 at the earliest, the chief executive of the London Legacy Development Corporation has revealed.
The winning tenants were meant to take over in 2014, but Dennis Hone said the amount of work needed to finalise bids was behind the delay.
Four proposals, including one from West Ham United, are being considered for the future use of the £486m venue.
No date has been set for when a new tenant will be announced.
A decision had been expected in October, but is not now likely to be made before December as the schemes continue to be evaluated.
A deal for West Ham to take up the lease collapsed in October 2011 due to legal challenges from Leyton Orient and Tottenham Hotspur.
Football is still among the favourites to win the contract to move into the ground which hosted the majority of the track and field athletics events during the 2012 Olympics and Paralympics, as well as the opening and closing ceremonies.
Orient owner Barry Hearn plans to change the club's name to London Orient if the League One side's bid to ground-share with West Ham succeeds. The Premier League club has previously said it has not held any talks with Orient.
The two football clubs face competition from Intelligent Transport Services in association with Formula One, and UCFB College of Football Business.
London mayor Boris Johnson held "encouraging" talks with officials from the National Football League (NFL) last month over staging matches at the Olympic Stadium from 2017, but Hone stated that American Football was not one of the remaining bidders.
He told the London Assembly's budget and performance committee: "We have no formal bids outside of the competition or otherwise by American Football to go into the stadium.
"We are running a competition and we have four bidders. There are no bids outside that."
Money spent so far in the bidding process has looked at the design options available. Talks have been held with the rival bidders, but none of the adaptation work has been taken to the market yet.
Whichever bid wins, the venue could still have multiple uses and the stadium will host the World Athletics Championships in 2017. Hone wants a capacity of around 50,000 seats to be maintained for the championships.
He also believes that a stadium built to retain an athletics track could also work with the winter sport of American Football.