West Ham given ultimatum over Olympic Stadium deal

By David Bond
BBC sports editor
Last updated on .From the section Olympics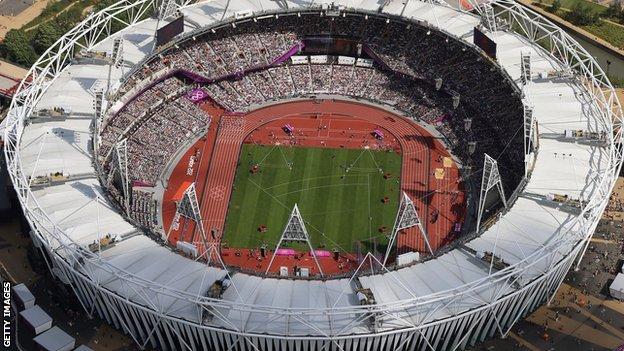 West Ham's owners must agree to share the profits from any future sale of the Premier League club if they are to be granted the right to move into the Olympic Stadium, the BBC has learned.
The Hammers will be announced on Wednesday as the number one choice to become the stadium's main tenant.
But Mayor of London Boris Johnson says West Ham's market value would be increased significantly by winning the 99-year lease and therefore any deal rests on club owners David Sullivan and David Gold meeting the key condition.
With so much public money invested in the stadium - first to build it and now to convert it for top-flight football - Johnson is concerned that the taxpayer could be left out of pocket if the duo later decided to sell the club on.
Adding retractable seating and fully extending the roof on the venue - now seen as an iconic venue following London's successful staging of the 2012 Games - will cost between £130m and £150m, on top of the £429m it cost to build the stadium for the Games.
The vast majority of that conversion money will come from a mix of public funding, including a £40m loan from Newham Council, the local authority.
For some time, there has been concern over a shortfall in the funding, especially with West Ham only willing to commit around £15m, but sources tell me that is now less of a problem.
Instead, the major stumbling block is the question of how to divide up the profits from any future sale of the club.
Sullivan and Gold are thought to have spent around £50m in acquiring a 50% controlling stake in West Ham in January 2010. They have also covered the club's vast debts, estimated to be around £70m.
With the Premier League's domestic TV rights set to increase by 60% from next season, West Ham could become a very attractive acquisition if they can retain top-flight status and secure a long-term future at the Olympic Stadium.
They would also raise money from the sale of their current ground, Upton Park.
The board of the London Legacy Development Corporation, chaired by Johnson, will meet on Wednesday to rank the four organisations who have submitted bids to use the stadium. In addition to West Ham, League One side Leyton Orient, UCFB College of Football Business and a consortium linked to Formula 1 have all tabled offers.
West Ham, currently lying eighth in the Premier League table in their first season back in the top flight, will be ranked first - another significant step on the road to securing a lasting legacy for the stadium - but it could be some months before a deal is finally completed.