West Ham United are preferred bidder for Olympic Stadium
Last updated on .From the section Olympics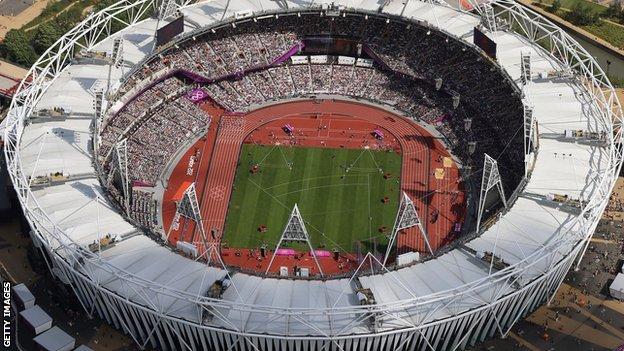 West Ham United have been named as the preferred bidders to take over the Olympic Stadium.
The London Legacy Development Corporation (LLDC) ranked the Premier League club's bid as the number one choice after a meeting on Wednesday.
Other bids had been made by League One side Leyton Orient, UCFB College of Football Business and a consortium linked to Formula 1.
The £429m venue is not expected to fully reopen before August 2015.
LLDC chairman and London Mayor Boris Johnson said: "My position on the future of the stadium remains what it has always been: that we can secure a terrific future for this much loved and iconic venue with or without a football team playing there.
"It will, if it goes through, mean a football legacy for the stadium but there is still a lot of negotiation to go on between the LLDC and West Ham United about the terms of the deal."
BBC sports editor David Bond that West Ham's owners must agree to share the profits from any future sale of the Premier League club if the move is to go through.
In a statement West Ham did not comment on the issue but said the LLDC's decision "guarantees a true and lasting legacy for east London and the best possible outcome for the British taxpayer".
Vice-chairman Karren Brady said the stadium could become a "multi-use destination of which east London and the nation as a whole can be proud".
"I have never lost sight of our vision to play our part, along with the stadium's major stakeholders, in ensuring it grows into a global asset. It is the 'jewel in the crown' of the park, watched by the world," she added.
The move would see West Ham relocate two miles (3.2km) from their 35,000-capacity Upton Park to a stadium reduced from 80,000 seats at the Olympics to 60,000.
West Ham would be the anchor tenants, with other events, such as the 2017 World Athletics Championships, staged at the stadium.
Retractable seating would have to be installed so there could be a quick change between athletics and football use. The club believes their tenancy would help create 700 jobs.
Brady has told supporters they will not make the move unless the stadium is judged to be acceptable for hosting football. However she said they had already received assurances that sightlines will be "better than Wembley".
"I guarantee they will not be disappointed when our full vision for a stadium that is world-class in terms of supporter experience, sightlines and facilities is revealed," she added. "We will seek to share full details as soon as we are able to do so."
A stadium operator will be appointed with the task of co-ordinating community and sporting use, as well as concerts and events.
In November LLDC said the stadium would not reopen until August 2015 at the earliest, but it is now hoped it could launch for some events next summer.
A previous deal for West Ham to take up the lease collapsed in October 2011 due to legal challenges from Leyton Orient and Tottenham Hotspur.