Sport England survey shows 750,000 boost in participation
Last updated on .From the section Olympics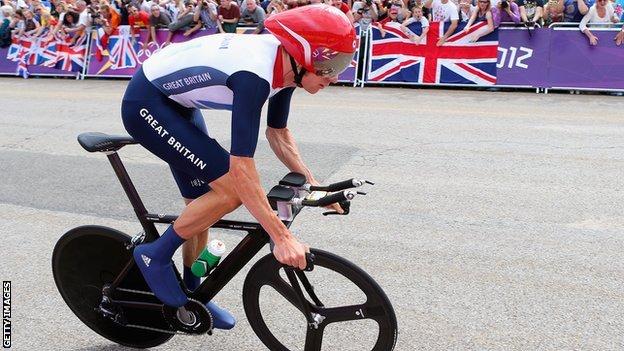 Sport England says the number of people playing sport at least once a week grew by 750,000 in England this year.
The impact and success of the London Olympic and Paralympic Games have helped boost numbers.
Cycling has shown the most significant rise, with 200,000 more people riding compared to the last annual figures.
More women than ever before are taking part in sport, although the survey reveals that 16-25-year-olds are not taking up sport in any greater numbers.
The figures show that 15.5m people aged 16 and over are playing sport at least once a week - 750,000 more than a year ago and 1.57m more than when London won the Olympic and Paralympic bid in 2005.
More than half a million more women are taking part in sport with increased participation in netball, cycling and running, while overall the number of people taking part in sport has risen sharply since the start of the 2012 Games with strong increases in Olympic sports like cycling and sailing.
More disabled people are taking part in sport at least once a week, but participation levels still lag behind those for non-disabled people, with Sport England hopeful a National Lottery investment of £10.2m can help to cut the gap.
Sport England's chief executive, Jennie Price, said: "We set the bar high in this survey, measuring only the people who play sport once a week, every week. These results show we are on the right track. I'm particularly pleased that many more women are taking up sports.
"Sport needs to work even harder to attract and keep young people. So the investment in individual sports we will be announcing before Christmas will be strongly focussed on getting more 16- to 25-year-olds playing sport."