West Ham: Olympic Stadium move needs successful team - Allardyce
Last updated on .From the section Football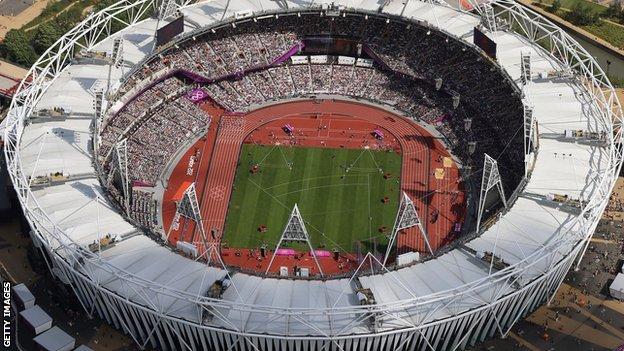 West Ham boss Sam Allardyce has warned that a move to the Olympic Stadium will not work without a successful team.
"There are years of good financial management needed as well as success on the field," Allardyce said.
"There is one thing you have to bear in mind, you cannot build a white elephant and the white elephant is a great stadium and no team - disaster."
The London Legacy Development Corporation announced on Wednesday that West Ham were their first choice to move into the Stratford venue, ahead of bids from League One side Leyton Orient, UCFB College of Football Business and a consortium linked to Formula 1.
The £429m venue, which had an 80,000 capacity for the London Olympics, is likely to be reduced to 60,000 for football matches, with retractable seating in operation, and is not expected to fully reopen before August 2015.
West Ham vice-chairman Karren Brady has told supporters they will not make the move unless the stadium is judged to be acceptable for hosting football.
"There is always a lot of disruption when a club decides to move form somewhere which has a huge history," said former Bolton manager Allardyce, who has been at the West Ham helm since June 2011.
"It is always going to be upsetting to some of the very loyal supporters we have but in the end, when you look to what happened at places like Bolton, I couldn't have built that sort of success without those fantastic facilities - not that a facility has ever produced a player but it doesn't half help."
West Ham returned to the Premier League this season after beating Blackpool in the Championship play-off final, and are eighth in the table after victory over London rivals Chelsea last week.