London 2012: Poll suggests participation has increased
Last updated on .From the section Olympics47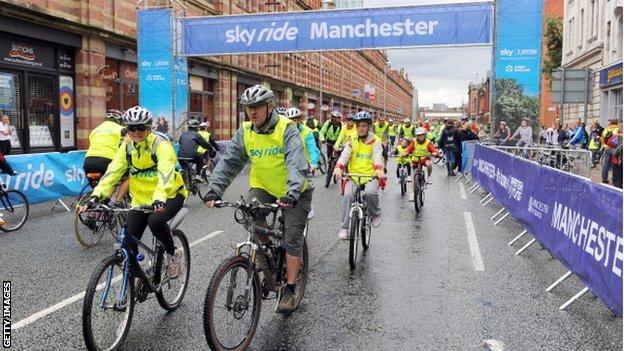 A BBC Radio 5 live poll has found that around one in five people have been inspired to play sport by the London Olympics.
One of the legacy targets of the 2012 Games was to increase the number of people playing sport around Britain.
Of those polled, 56% also felt there is too much media coverage of football and not enough of other sports.
Only 35% said they had noticed an increase in non-football stories since the Games ended almost six months ago.
On the issue of participation, there have been success stories, with cycling experiencing a notable increase.
Jarl Walsh, who is general manager of the National Cycling Centre in Manchester, said there had been a "significant spike" in the number of people using the site's facilities and revealed there was a "significant waiting list for everything we do".
British Cycling also said their membership was now at 62,500, an increase of 12,500 since Bradley Wiggins won the Tour de France in July.
British Rowing has also seen a rise in demand, especially from people looking for a club on the 'club finder' section of the organisation's website.
Politicians have recently been accused of paying "lip service" to sport.
The last Labour government wanted two million people to become more active as result of the Games, although that later became a pledge to get one million people playing more sport.
Sport England announced in December that the number of people aged 16 to 19 playing sport had fallen. It also announced that it will give £493m to grassroots sports between 2013-17, up £54.7m.
ComRes interviewed 1,009 British adults by telephone between 4 and 6 January, 2013. Full tables are available at www.comres.co.uk.
Lord Coe, Sports Minister Hugh Robertson and a number of Olympians and Paralympians will join Victoria on her programme from 10:00 GMT on Thursday to discuss the poll's results.
BBC Radio 5 live listeners are also encouraged to enter the debate.