Olympic and Paralympic sports set for Rio 2016 funding appeal
By Nick Hope
BBC Olympic sports reporter
Last updated on .From the section Olympics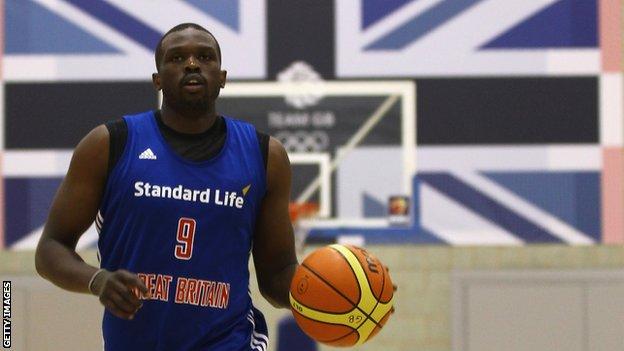 Olympic and Paralympic sports unhappy with their "Road to Rio" funding will be able to appeal against the decision.
Last month, UK Sport announced a record £347m for Rio 2016, 11% up on London 2012, but basketball, handball, table tennis and wrestling lost all support.
Sports can present to a UK Sport board on 30 January and then opt for a formal appeal to be heard.
British Basketball and British volleyball, which had its funding cut by 88.7%, say they intend to appeal.
"It seems frankly unfair after our brilliant endeavours at London 2012, when we were required to produce credible performances, that we should be rewarded with precisely nothing," said British Volleyball President Richard Callicott.
On Monday, the sport's bosses revealed they had written to Secretary of State for Culture, Media and Sport Maria Millar MP in a bid to lobby support for a financial reprieve, after their funding was cut from £3.53m for London 2012 to £0.4m for Rio.
"I would like to ask that you do everything in your power to get UK Sport to re-consider the funding settlement for volleyball and in particular for the GB Women's Indoor Team," wrote Target 2012 Action Team member Cary Wicks.
A UK Sport spokesperson reaffirmed their original decisions were based clearly around their "no compromise" approach to focus on sports with genuine future podium prospects.
"UK Sport has a very clear remit to target resources at the top end of the high-performance system to deliver success at the Olympic and Paralympic Games," said the spokesperson.
"Our investment allocations for the Rio 2016 Olympic and Paralympic Games followed an intensive planning process and dialogue with summer Olympic and Paralympic sports, which began over a year ago."
They said sports had been "invited and supported to produce business cases for investment in their programmes for the Rio cycle, which provided UK Sport with evidence of medal potential for Rio 2016 and/or the following summer Games in 2020".
"This has been the most robust and challenging process ever carried out by UK Sport with sports to ensure that the record investment of £347m will be targeted towards the right athletes as we aim to win more medals in Rio than we did at London 2012."
In addition to those sports that lost all of funding, archery, badminton, judo, swimming and the men's waterpolo team all suffered cuts in their support for Rio and could decide to appeal.