Holding out for role models, not glamour models
Last updated on .From the section Sport205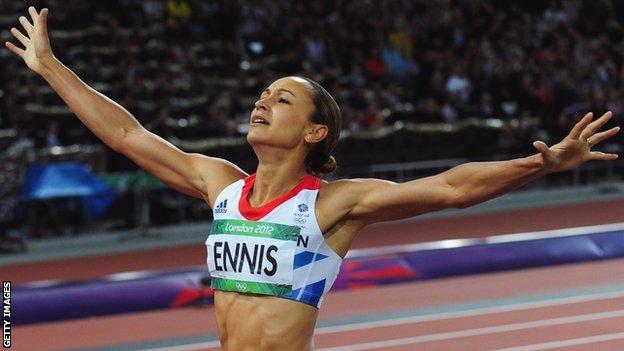 On International Women's Day, BBC Sport's Ben Dirs speaks to UK Sport's outgoing chair Baroness Campbell about the giant strides made by female athletes in Britain and what still needs to be done.
Kim Kardashian is getting a bit fat. Well, she is pregnant. Jodie Marsh has had a row - I know! Another one! - with Katie Price, because Katie has only gone and called Kelly Brook "a heifer". The cow...
… this isn't a dream I had last night, this is the world many hoped the London Olympics might wipe out - or at least turn the volume down on. This stuff actually happens, in women's magazines on a shelf near you. A world of hideous orange, where pneumatic celebrities rule and Lady Gaga thinks Adele is fatter than her, even though Joan Rivers thinks… blimey, even the old girls are joining in. I give up, I really do…
"In the society we live in, young women are still looking at size two models in magazines and worrying what they look like," says Baroness Sue Campbell, who will shortly step aside as chair of UK Sport after 10 years in the job.
"So to see these women athletes capture the public's imagination and be something to aspire to at both the Olympics and Paralympics was tremendous.
"They were so articulate and comfortable in themselves, a range of physiques but all very feminine: Kath Grainger is tall and strong, Jess Ennis packs her strength into a slim frame, Nicola Adams is small but powerful. I would much sooner young women aspired to look like them than some Page Three model.
"It's not all about young women necessarily becoming Olympians and Paralympians, it's about them being healthy and feeling good about themselves."
For a fiercely intelligent woman like Campbell, a former England netball international, PE teacher, university lecturer and still chair of the Youth Sport Trust, the fact this corrosive celebrity culture continues to prevail when such a healthy alternative has been shown to exist must rankle.
That said, Campbell's use of the word "feminine" touches on a central paradox and confusion within women's sport. For there is plenty of evidence to suggest that the more feminine - and for "feminine" read "beautiful" - a female athlete is perceived to be, the greater their fame and potential earning power.
That Anna Kournikova has a net worth (an estimated £33m) just shy of Venus Williams (£39.8m), despite winning no Grand Slam singles titles to Williams's seven, speaks volumes.
As does the fact that when you type "Jessica Ennis" into Google, the first two suggestions are "Jessica Ennis hot" and "Jessica Ennis bum". Of the top 10 predictive searches, not one of them relates to sport.
Some female athletes are more complicit. Victoria Pendleton is not averse to stripping down to her smalls for the odd "tasteful" photo shoot. Asked whether she would be willing to follow suit, British racing driver Susie Wolff replied, cryptically: "Hopefully I won't have to do it, it's not something I'd really like to do. But I would if it's going to make me go faster and give me a better chance to win races."
These are the realities of British society in 2013 and Campbell is being similarly realistic by recognising that women's sport in this country has to work within these parameters.
Putting aside the suspicion that most of the Google users searching for pictures of Ennis's backside are males, Campbell is probably correct in her assertion that many young women are as likely to be inspired by a successful sportswoman's femininity as by anything she has achieved.
"A lot of girls drop out of sport in their early teens because they start changing shape and they're less comfortable in their body," says Campbell.
"But also at that time they realise there's this thing called the opposite sex and therefore they want to look good. In school, we put them in gym knickers, the showers might not smell too good and they think 'this isn't really being a woman'.
"We've got to ask ourselves: 'Can we present this in a much more effective way for young women? And can we encourage enough women to recognise you can be young, fit, athletic and healthy and still be a woman?'"
Campbell points out that while British newspapers brim with images of sportsmen going about their trade, sportswomen are close to invisible some days. Indeed, an unscientific flick through four randomly selected nationals on Monday 4 March - two broadsheets and two tabloids - revealed that in 65 pages of sport there were only eight photographs of women.
Four were of Perri Shakes-Drayton, winner of the 400m at the European Indoor Championships in Gothenburg, two were of event rider Laura Collett, sat atop champion race horse Kauto Star, and one (a very small one) was of Holly Bleasdale, winner of the pole vault in Sweden. Another was of Chris Robshaw's girlfriend and another was of American girl group The Three Degrees.
A more scientific study, carried out by the Women's Sport and Fitness Foundation (WSFF), revealed that only 5% of media coverage of sport in the UK was devoted to women.
"You cannot overestimate the effect this has on women, and not just sportswomen," says Campbell.
"A lot of men who look at images of footballers are never going to play in the Premier League but those images are really important to their sense of belonging, who they think they should be - not always in a good way - and what they think they should look like.
"There isn't that kind of imagery around women's sport and we need it. It's not just about sport, it's also about the impact sport has on society."
So while women's sport in Britain has made giant strides in terms of success on various fields of play, in terms of coverage its athletes have a long way to go before they achieve parity with British men. That will only change when media outlets are convinced British sportswomen will pull in similar numbers of readers, viewers and listeners as men, which could be a long time coming.
WSFF figures show that at the age of 14 only 12% of girls are doing what is considered enough physical activity, half that of boys the same age. And if they are not doing, chances are they are not reading, watching and listening either.
At the same time, and no doubt connected, women make up only 22% of board members at British sports organisations. Almost two-thirds of boards do not meet UK Sport's minimum target of 25% female members and six boards, including British Cycling, do not have any women on them at all.
Some will no doubt cry "tokenism!" at the push for more female movers and shakers in British sport. But Maria Miller, Culture Secretary and Minister for Women, is surely right when she says that the aim to get more girls involved in sport is better served with more passionate women at the top.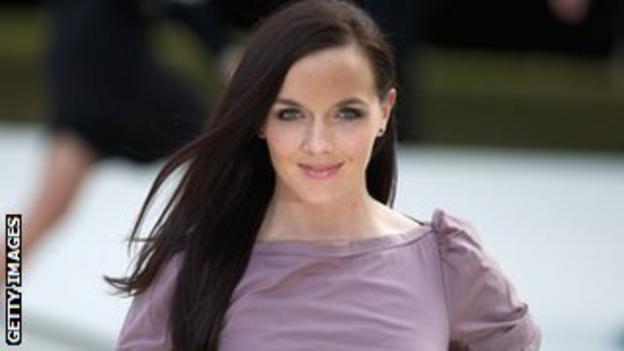 Women like Baroness Campbell, a thoroughly pleasant 64-year-old woman shot through with a double dose of ruthlessness. One can only hope her successor is equally cold-blooded: ruthlessness will ensure you lose friends and alienate people but it is apparently one way of ensuring you win sack-loads of medals.
That so many of Great Britain's 65 medals at the London Olympics were won by women - 37% of the total - was more the result of this ruthless pragmatism on the part of Campbell and her organisation than any crusading feminist spirit.
Heptathlete Denise Lewis was the only British female athlete to win a medal (a bronze) at the 1996 Games in Atlanta, where Britain won only 15 medals overall.
But after lottery funding was introduced in 1997, the increased accountability that came with all that extra money led governing bodies to look to both men's and women's athletes to deliver tangible success - tangible success that would in turn lead to more money being pumped into their sports and funnelled towards the best coaches.
"It didn't matter what gender people were, it opened up a different way of thinking," says Campbell.
This ruthless pragmatism means GB's female cycling and rowing contingents are now powerhouses on the international stage and has turned the likes of Pendleton and Grainger into household names. For Campbell, it is proof that the increased profile of women's sport in Britain is about so much more than a few more gongs on an Olympics medal table.
Some will be of the view that "girls are just less into sport than boys, get over it". But looked at in the context of physical well-being and literacy, confidence and all-round self-improvement, rather than potential success at the elite level, such aims begin to look more worthy and less cynical.
An 11% increase in funding for Rio 2016 suggests the ruthless pragmatism as exemplified by Campbell is more than a passing fancy and has become part of UK Sport's genetic make-up.
It is a trait that has made a generation of British sportswomen into figures of inspiration and adulation. Campbell's only regrets are that there could have been so many more and that so many young British women still care whether or not Kim Kardashian is fat.