Rio 2016: How new UK Sport chief plans to better London 2012
Last updated on .From the section Olympics53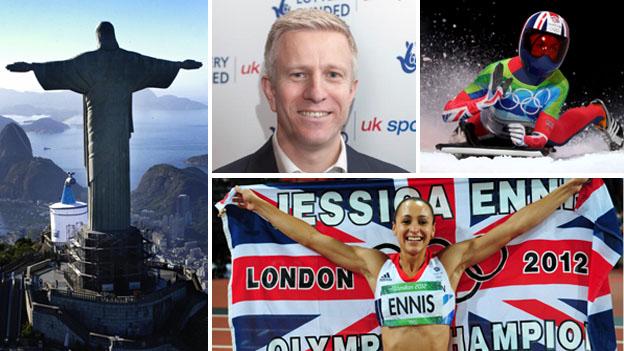 This seems a thankless time to be starting as the new performance director of UK Sport.
After all, Great Britain have just recorded their biggest medal haul at an Olympics, spurred on by fanatical home support and an unprecedented level of interest. Surely the only way is down after that?
Won't the new man, Simon Timson, feel like he's arriving when the party is over?
Timson is having none of it, and has actually set a bold target for Team GB and Paralympics GB at the 2016 Olympics.
"Our mission is to become the first nation to become more successful after hosting, in terms of medals won at both the Olympics and Paralympics," says the 42-year-old, who took over on 14 January. "That seems entirely logical, yet not even the Chinese have managed to do it before. I firmly believe in our athletes and the people in our high-performance system."
In fact, most countries have won at least 10% fewer medals in the Games after hosting and Greece actually won four times fewer.
HOW OLYMPIC HOSTS FARED IN NEXT GAMES

COUNTRY

YEAR

GOLD

SILVER

BRONZE

TOTAL

POSITION

China

2008

51

21

28

100

1st

2012

38

27

23

88

2nd

Greece

2004

6

6

4

16

15th

2008

0

2

2

4

58th

Australia

2000

16

25

17

58

4th

2004

17

16

17

50

4th

USA

1996

44

32

25

101

1st

2000

37

24

32

93

1st

Spain

1992

13

7

2

22

6th

1996

5

6

6

17

13th
Timson says there are plenty of reasons for Britain to be optimistic though. Firstly, and probably most importantly, Exchequer and National Lottery funding for the four-year cycle to Rio has actually increased, from the £313m allocated before the London Games to a record £355m. Such an increase is unprecedented worldwide, and the money started being distributed at the start of April.
The former bobsleigher also believes there is plenty of room for UK Sport and the 44 world-class programmes it supports to continue to improve on the road to Rio.
"We can reach more athletes in the performance pathways, we can turn more of our coaches into the best in the world, and we can become even smarter with identifying talent," he says.
"We need to ensure London wasn't a one-off, and that Rio isn't a one-off repeat."
In a nutshell, Timson describes UK Sport's role as "investing the right resources in the right world-class programmes to enable the right athletes to perform and win medals".
He succeeds Peter Keen, the man responsible for UK Sport's "no compromise" approach, which saw money withdrawn from underperforming sports and diverted to those with a genuine chance of winning medals.
It is a tough act to follow, but Timson has impressive credentials of his own. At just 29, he became performance director of British Skeleton. It was a sport few had heard of and even fewer took part in, yet Timson's lateral thinking and creativity turned it into a major success. He discovered athletes such as Amy Williams and Shelley Rudman, persuaded them to take up skeleton bob, and turned them into household names.
He employed top coaches and sports scientists, and even worked with PhD students at Southampton University and engineers at aerospace firm BAE Systems to develop the best sled in the world. The result was medals at every Winter Olympics from 2002 onwards, culminating in Williams's gold at Vancouver in 2010.
In 2006, he became head of science and medicine at the England and Wales Cricket Board, before taking charge of the England development programme and talent recruitment.
English cricket was at a low ebb after an Ashes humiliation the previous summer and former captain Michael Vaughan credits Timson with helping turn things around.
"He took a very scientific approach to ability and development," remembers Vaughan. "I experienced this working with him and Floyd Woodrow, a former SAS officer, at the ECB academy.
"They were assessing the character and fitness of the next generation of talent. They knew exactly how big and strong these lads were going to be when fully grown. They watched and learned about their characters. That was then passed on up the line.
"It is easier to manage a player when you know what he is like underneath the surface."
Under Timson's charge, England's Under-19s won 77% of their matches, Daniel Bell-Drummond became the highest run scorer in their history and Ben Foakes went on to hit back-to-back fifties in his first two games for England Lions.
Vaughan says Timson massively improved England's talent identification system, an area he will now be focusing on at UK Sport.
Timson says 90% of GB's medallists in Rio will already be in the high-performance system - which means that, on the other hand, six or seven medallists could still be unknowns at this stage.
"There's still an opportunity for any aspiring athlete out there," Timson says. "We can expect even more focused, targeted, robust talent identification now."
In the run-up to 2012, UK Sport ran a series of events to discover promising new athletes. There was Sporting Giants, which looked for athletes with the potential to win medals in volleyball, handball and rowing; girls4gold, searching for female athletes for skeleton, canoeing, pentathlon, rowing and sailing; and Paralympic Potential, which was looking for possible champions in various Paralympic disciplines.
Talent ID schemes are starting earlier in the run-up to Rio, and more money is being devoted to them. Fighting Chance: Battle for Brazil was held in Manchester a few weeks ago to try to find taekwondo athletes in time for Rio.
In Chelsea Warr, UK Sport already has the world's leading expert in unearthing new talent, according to Timson. The Australian will be working closely with the English Institute of Sport and their recently recruited "talent scientists" in the run-up to Rio.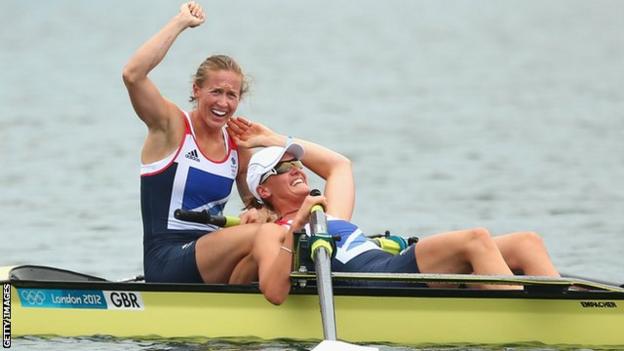 And Timson himself certainly has an impressive pedigree when it comes to talent identification. He remembers Williams, a talented 400m runner and first-year student at Bath University, being persuaded to try skeleton for the first time.
Her potential was immediately obvious.
"I sat down in the canteen at Bath University with Amy, her dad, who was a professor of chemical engineering, and her mum, who was a teacher," says Timson. "I had to persuade them it was a good idea for their daughter to give up her degree, which she had only just started, and go away for the winter to train at skeleton.
"I knew she had the potential to win an Olympic medal if she followed our training programme, worked with our coaches, who were the best in the sport, and used our equipment, which was also the best in the world."
Her parents were initially horrified, understandably, but they agreed to support their daughter in following her dream. The rest is history: in 2010 Williams won Britain's first solo Winter Olympic gold for 30 years.
Winter sports remain Timson's passion, and he argues Team GB will travel to the Winter Olympics in Sochi next year with their strongest-ever squad.
"We're not thinking of one exceptional athlete who can get a medal, but of a number of sports," he says.
"In curling, our women are world champions and the men got bronze. GB's boys are also junior world champions. In skeleton, Shelley Rudman is world champion, Lizzy Yarnold came fourth and Dom Parsons, in his first season at world level, came ninth. The men's bobsleigh team are ranked fifth in the world. And they aren't all the stories."
Timson has spent the first three months in his new job travelling round the different sports to meet their performance directors, athletes and coaches, and has been impressed with what he has seen.
When I spoke to him, he had just been to visit the synchronised swimming team. "I watched girls of 13 to 15 training in a world-class environment alongside the athletes who had competed for GB in London," he says.
"They were in their school holidays, learning what it is to be world class. There's nothing better than that."
And he says he is sure Britain can carry the momentum of London to Rio in three years' time and inspire the next generation of athletes.
"The British public love their athletes and enjoy nothing more than seeing them win. We want to give them more of the golden moments they saw in London."