Olympic Games: Three sports still in running for 2020 place
Last updated on .From the section Olympics110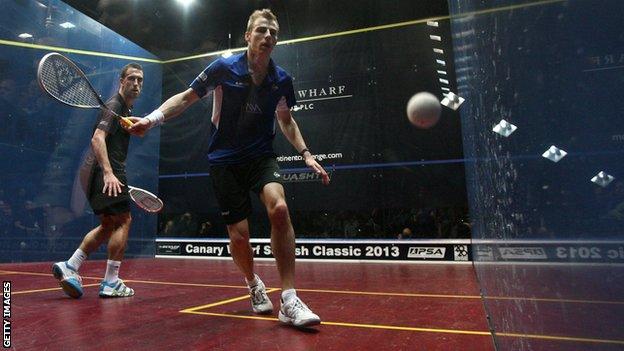 Squash, baseball/softball and wrestling beat off five other sports to remain in contention to be added to the Olympic Games programme in 2020.
The International Olympic Committee (IOC) will decide on one remaining place in the programme in September.
The IOC has dropped wushu, wakeboarding, roller sports, karate and sport climbing from the shortlist.
"It was never going to be an easy decision," said IOC President Jacques Rogge.
"But I feel my colleagues on the board made a good decision in selecting baseball/softball, squash and wrestling to be put forward in Buenos Aires [where the decision will be made]."
A space was freed when wrestling was originally dropped in February - though it was then allowed to reapply.
It remains in the running after the IOC executive board voted for it following 30-minute presentations by each international federation.
Baseball and softball were dropped as individual sports after 2008 in Beijing, while squash has never been played at the Olympics, although it is a Commonwealth Games sport.
In 2010 in Delhi, England led the way with six medals, including double gold for Nick Matthew.
But although squash is one of the better funded non-Olympic sports - Sport England has pledged to contribute almost £5m in talent and elite programmes up to 2017 - even top players often struggle financially compared with their equivalent rankings in other sports.
The decision to retain squash at this stage was greeted positively by Laura Massaro, the current British Open champion.
"We deserve to be included and it was almost painful to watch London 2012 with no opportunity to be part of the nation's success," said the 29-year-old.
"All of the other notable racket sports are in the Games already - tennis, badminton and table tennis - but squash has been overlooked in the past and it has been tough to take when you compete at the highest level on the world stage."
The IOC initially recommended the removal of wrestling after assessing the performance of all 26 sports at the London Games, but it could now be granted a reprieve.
Softball had a presence at the Olympic Games, solely for women, between 1996 and 2008. It was then dropped from the programme for 2012, as was men's baseball, which had appeared sporadically at the Olympics since 1904.
Climbing was a high-profile casualty however, despite Dame Kelly Holmes backing its bid.
"It has strength, power and, from an energetic sports perspective, it hits all the marks," she told BBC Sport.
Whichever sport succeeds in the September vote will be added to the 25 core sports, plus golf and rugby sevens.
To remain relevant to sports fans of all generations, the Olympic programme commission systematically reviews every sport following each edition of the Games.
The commission uses 39 criteria in determining a sport's suitability for the Olympic Games, including youth appeal, universality, popularity, good governance, respect for athletes and respect for the Olympic values.
Golf and rugby sevens are the latest sports to be added to the Olympics and will debut at Rio.