Olympic legacy: North East minority sports receive boost
By Nathan Middleton
BBC Sport
Last updated on .From the section Olympics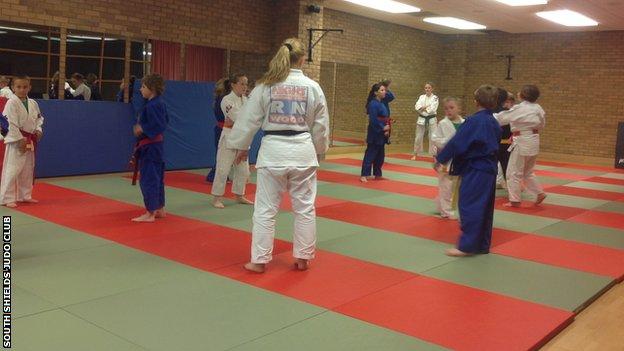 A key factor in the Olympics coming to London was the message from Games chief Seb Coe that it would create a legacy for the rest of country.
In the North East, a region just about as far away as you can get in England from where the Games were held, there appears to have been an expansion in participation particularly for the minority sports.
Indeed, the BBC's Olympics Legacy survey found 14% of people questioned in the region are more active now than they were before the games.
"There is a fantastic buzz, especially around judo," said Beth Wood, head coach at South Shields Judo club.
A Gemma Gibbons silver and Karina Bryant's bronze were the only two judo medals Team GB took last summer, but the exposure appears to have helped participation at the club, which was formed in 2010.
"We've seen a massive influx after the Olympics of people coming into the sport from as young as five, all the way through to as old as you want to be," Wood told BBC Newcastle.
"Alongside that we've got so many more volunteers since last year."
Badminton is another sport which has seen a lift, despite taking no medals in London and having its funding cut from £7.4m to £5.9m in the lead-up to Rio 2016.
"I think the Olympics has just generally fired up the sporting world in England," said Mike Woodward who is the centre manager of Tyneside badminton centre, a newly-created facility which will be the largest in the region.
Speaking to 2012 Olympic 1500m semi-finalist Ross Murray, who has been working with BBC Newcastle to look at the impact of the Games, Woodward added: "This is about creating a home for badminton.
"There's going to be nine badminton courts, six of them will be exclusively for badminton and the other three will have badminton on them, but there will be a range of complementary activities.
"Half of the funding has come from Badminton England, Sport England and Northumberland Badminton Association. The rest of it has been raised by a combination of donations and some very, very soft loans.
"I think our clubs need to be at the forefront of the development of the sport and I think we need more facilities so we can start playing more singles."
Gymnastics, with its 4% increase in funding to £14.5m ahead of the 2016 Olympics, is seen as one of the lesser sports that could improve on the performance that took a men's team bronze and medals for Louis Smith,Max Whitlock and Beth Tweddle.
Lynn Hope, who helps run the Northern Hope Gymnastics centre in Birtley, said: "We've got posters up of the Olympics gymnasts which the kids like to look at so I think the Olympics has been a good thing really.
"We were looking around for factory units and we saw this one and went to Gateshead Council to ask would they help us, and they did, and we moved on from there.
"When we moved into the unit we had 39 children and now we've got 205 members and we only opened to the general public in January."