Yelena Isinbayeva: Jacques Rogge criticises anti-gay comments

By David Bond
BBC sports editor
Last updated on .From the section Olympics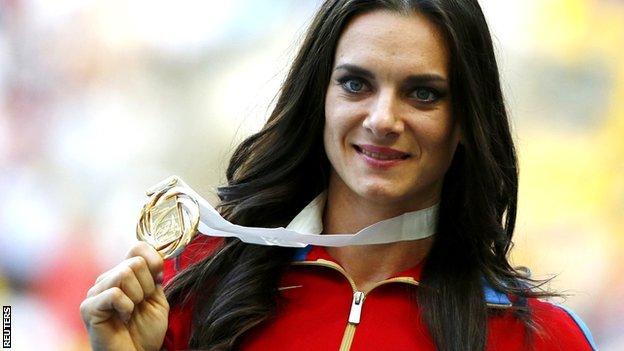 International Olympic Committee president Jacques Rogge has criticised Russian athlete Yelena Isinbayeva for making comments supporting Russia's new anti-gay laws.
Isinbayeva, a sporting icon in Russia who is thought to be close to the circle of President Putin, caused outrage when she criticised Swedish athletes Emma Green Tregaro and Moa Hjelmer for painting their fingernails in rainbow colours, a symbol of gay pride.
Although Isinbayeva issued a clarification of her comments, made after she won her third World title in Moscow two weeks ago, Rogge is still considering whether to remove her as an ambassador for the Youth Olympic Games and as mayor of the Olympic village in Sochi.
"It was disappointing," he said. "Fortunately she reacted to that and addressed that by second declaration. But she should not have done that. She should not have intervened with such words and such a debate. It was definitely an ill-advised judgment."
Russia's new legislation outlawing the distribution of so-called gay propaganda to children has led to international condemnation of Vladimir Putin's government.
Comedian Stephen Fry described the laws, signed in June, as "barbaric" and campaigners believe they are part of a wider crackdown on the gay community. Some activists have called for a boycott of next February's Winter Olympics in Sochi.
On Thursday Russia's deputy Prime Minister, Dmitry Kozak, wrote to the IOC to reassure them that there would be no discrimination of gay people during the Sochi Olympics and to reaffirm the country's commitment to the Olympic Charter, which includes a strict anti-discrimination clause.
Kozak added that, under the constitution of the Russian Federation, discrimination along gender lines is outlawed. But he reaffirmed the government's commitment to the new anti-gay laws, which prohibit the distribution of information which might persuade children aged under 18 that "non-traditional" relationships are normal or attractive.
Despite those reassurances, Rogge and the IOC want to keep the pressure on the Russian government to stick to those commitments.
Rogge added: "We are staging the games in a sovereign, independent country and we have to respect the sovereignty. But at the same time we are urging the Russian government to make sure there is no discrimination on sexual inclinations.
"The situation for the IOC is quite simple. We have asked the Russian authorities to give us assurances that it won't affect athletes, spectators and officials. We have received these assurances from very high up in the government, from the deputy Prime Minister, Mr Kozak, who is also in charge of the organisation of Sochi.
"They tell us the right of being homosexual is enshrined in the constitution of the Russian Federation. They tell us the law is about distributing information on homosexuality to minors under the age of 18 and that there is no discrimination.
"We are now going to communicate that to the National Olympic Committees and the athletes because they are concerned about the performance they can have in six months' time [in Sochi]."