Wrestling, baseball/softball & squash await Olympics decision
Last updated on .From the section Olympics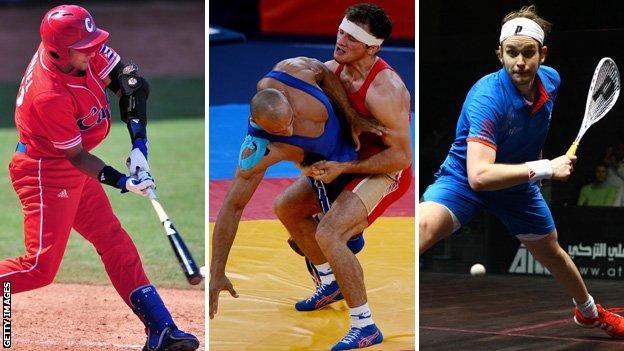 Wrestling, baseball/softball and squash will find out on Sunday which one of the three has been selected to become an Olympic sport from the 2020 Games.
The International Olympic Committee vote will be announced at 16:45 BST.
Wrestling, initially dropped from the Games in February, is the favourite but suffered a setback when its federation was reprimanded for breaching rules.
Meanwhile, ex-Cuban leader Fidel Castro's son, Antonio, is representing the world baseball/softball bid.
On Saturday in Buenos Aires IOC members voted to award the 2020 Olympics to Tokyo.
A letter from the IOC was sent on Tuesday to all three sports' international federations stating the "wrestling federation and an organisation supporting them engaged in activities that were not in line with the 'Rules of Conduct for the International Federations seeking inclusion in the Olympic Programme'".
It said an "official warning was sent" and "the matter is now considered as closed".
Nenad Lalovic, president of the International Federation of Associated Wrestling Styles (Fila), has recently spearheaded sweeping reforms to the sport - including making it more television-friendly - which have come in for praise from IOC members.
"What I am hearing makes me optimistic but a vote is another matter," Lalovic said. "Wrestling is not just a sport, it is a tradition in lots of countries. In some of those countries, the poorest ones, I fear there could be social problems."
Baseball and softball have been absent from the Olympics since 2008 and have since merged into one federation - the World Baseball Softball Confederation (WBSG) - to boost their chances of re-entering.
However, the chance of an Olympic return is hampered by what analysts say is a limited global appeal - despite popularity in the United States and Cuba.
WBSG vice-president Antonio Castro said: "A sport like ours, which is practised by more than 65 million people in the world, more than four million children, with more than 140 federations, more than 140 countries transmitting it on television, can add much value to the Olympic programme."
Squash, meanwhile, which has never been an Olympic sport, is promoting itself as a small, compact and cheap proposition in what is its third attempt to be selected.
British world number four James Wilstrop told BBC Sport: "I'm not sure the IOC understands quite how much we want to play. It is the pinnacle. We are trying to get that over to them."