Jacques Rogge: Departing IOC chief transformed Olympic body

By David Bond
BBC sports editor
Last updated on .From the section Olympics47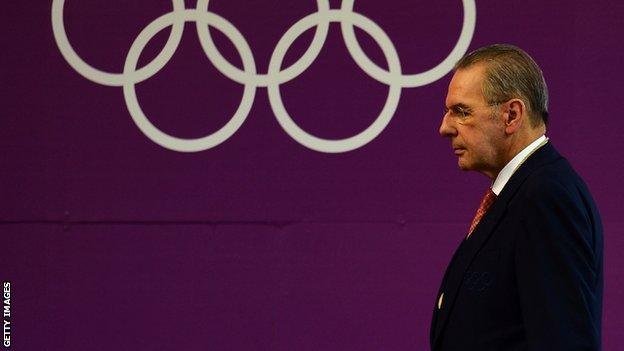 There is no doubt Jacques Rogge is handing over an Olympic movement in far better shape now than when he became International Olympic Committee (IOC) president 12 years ago.
Back then the organisation was still reeling from the Salt Lake City corruption scandal which led to the expulsion or resignation of 10 IOC members accused of taking bribes.
It was Rogge's predecessor Juan Antonio Samaranch who banned members from visiting bidding cities in the immediate aftermath of the scandal.
But the Belgian surgeon built on those reforms, introducing tough new conflict of interest rules and a beefed up ethics commission. Members still grumble that the code of conduct is too restrictive.
And yet without those drastic steps a decade ago the IOC's credibility may have been damaged beyond repair. One only has to look at the mess at Fifa realise how lasting the effects of a major scandal can be.
Singapore's Ser Miang Ng, one of the six candidates standing to replace Rogge in Tuesday's election in Buenos Aires, is in no doubt how important those reforms were.
He said: "Within two or three years of his presidency he re-established the credibility of the IOC.
"The whole of the IOC has real gratitude for what Jacques has done."
The Sydney Olympics of 2000 had restored confidence in the Games after the disappointment of Atlanta but by the time of Rogge's election at the IOC session in Moscow in 2001, problems with Athens were already growing.
Building delays and cost overruns dogged Greek organisers right up to the opening ceremony. Throw in the extra security threat posed by 9/11 and it was a small miracle the Games passed off as successfully as they did.
Since those rocky early years Rogge has sailed the IOC into far calmer waters. In fact the organisation has flourished and grown.
Financially it is in the rudest of health. The IOC's TV and sponsorship deals are worth billions of dollars. Witness the new deal with American broadcaster NBC, worth $4.38bn (£2.79bn) up to 2020.
The huge increase in revenue has allowed the IOC to build up emergency reserves (to be drawn on in the event the Games are cancelled) of $900m (£574m). A decade ago they stood at $100m (£64m).
But all this counts for nothing if the Games are bad. And few will doubt that under Rogge, there have been some of the most memorable Games in history.
From Beijing's awesome display of force to London's friendly Games, the power of the Olympic brand has grown and grown.
Israel's influential IOC member Alex Gilady said: "Under Jacques the Olympics have been confirmed as the best brand in the world. People realise now that there is nothing more complex and difficult to organise but every time we deliver great Games.
"Jacques has steered us through every crisis with a calm, clear head. What do you remember if you hate Jacques? Nothing."
That might be true. For such a powerful figure he is also, remarkably, one of the most likeable and widely respected. Some accuse the former Olympic sailor of being a dull technocrat but he sees his quiet, diplomatic style as a strength.
He has also earned praise for his zero tolerance approach to doping, doubling the number of tests at the Games to 5,000 and introducing more rigorous out of competition tests and target testing.
During his time in charge science has evolved to allow the authorities to re-test samples going back eight years and to create biological profiles for athletes.
"We cannot be naïve," he told me during his last interview for the BBC before standing down. "The fight against doping will never be won.
"But I am convinced it is harder to cheat now than it was when I took over."
Despite all these achievements the IOC under Rogge has still had plenty of critics.
Some feel it should have put more pressure on China over human rights in the run up to the Beijing Olympics in 2008.
As with the current question of Sochi and Russia's new gay propaganda legislation, the IOC often finds itself in an awkward and contradictory position; on the one hand espousing liberal values whilst on the other refusing to interfere in politics.
"We are not a political body, we are a sports organisation," Rogge said. "We have values and we are ready to defend those values. But we should not enter the field of politics."
This is the "soft power", which has been one of the trademarks of his leadership. Some say he has been too soft.
There are others who believe that under Rogge the Games have grown too big and too expensive to stage.
The next two hosts are a good example. Sochi is set to cost a staggering $50bn (£32bn) while Brazil is spending over $14bn (£8.9bn) on staging Rio 2016.
Newly elected 2020 hosts Tokyo says it won't spend more than $4.4bn (£2.8bn) but it is committed to building 22 of the 37 required venues from scratch. As London knows only too well the final cost of staging the Olympics can be very different to the bid forecasts.
The recent street protests in Brazil may not have been directed purely at the World Cup but in uncertain economic times, sports bodies like Fifa and the IOC know they need to justify the vast sums of money taxpayers stump up to help pay for their mega sports events.
So as his term draws to a close at the 125th IOC session in Argentina, I asked Rogge what he thought his legacy would be?
"That is for others to judge. But I definitely think the IOC is stronger now than when I took the job."
And his highlights?
"There's a couple actually - definitely Usain Bolt and Michael Phelps. The way Bolt won the 100 metres in Beijing was a revelation.
"He is the face of track and field and in a way he is the face of the Olympics. It must be a difficult thing for him to bear. Phelps and Bolt are the two great athletes who have achieved performances that are beyond imagination."
From Tuesday there will be a new man in charge of the IOC. Germany's Thomas Bach is the favourite to win a six man election which includes Singapore's Ser Miang Ng, Ukrainian pole vault legend Sergei Bubka and Denis Oswald, the man who oversaw London's preparations for 2012.
Whoever wins will have their own visions and ambitions for an organisation which still faces major challenges.
The recent rash of positive drugs tests in athletics has shown that for all Rogge's determination to fight doping, the problem is still there.
Then there are the logistical headaches of Rio and Sochi - the priority for the new President.
But despite all its problems and critics, they will take over an Olympic movement transformed from 12 years ago.