Scottish independence: 'Scotland Olympic team could be in Rio'
Last updated on .From the section Olympics830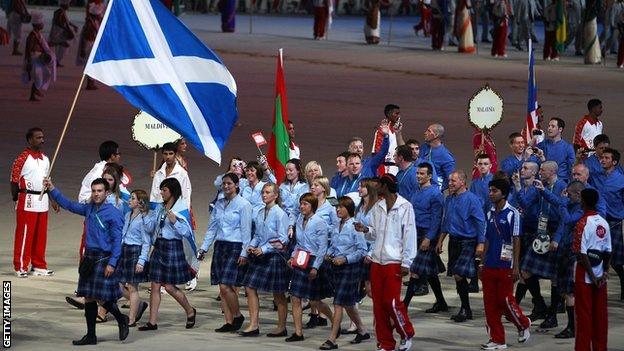 Scotland will press ahead with plans to have Olympic and Paralympic teams at Rio 2016 if the country votes for independence in a year's time, says Scottish Sports Minister Shona Robison.
Ahead of the referendum on 18 September, 2014, the MSP told BBC Sport she was confident Scotland would meet the strict conditions in order to become an Olympic nation.
"We're comfortable and assured Scotland will have its own Olympic and Paralympic team. It will bring many benefits," she said.
Robison, the Scottish National Party MSP for Dundee City East, said more Scots would get the chance to participate in Brazil and future Games if independence became a reality.
She also insisted Scottish athletes would not be disadvantaged by independence, even though they would be denied access to traditional funding streams and facilities.
"We have made substantial investments," said Robison, explaining that Scottish athletes would have access to a "fantastic new velodrome and a fantastic new sports arena" in Glasgow as well as a new £25m performance centre for sport in Edinburgh.
But not everyone is convinced that Scotland - which hosts the 2014 Commonwealth Games in Glasgow - would be better off competing as a separate nation.
Badminton player Imogen Bankier, who represented Scotland at the 2010 Commonwealth Games and Britain at the 2012 Olympics, has told BBC Sport that her country does not have the facilities, funding or depth of talent to make a major impact at future Olympics.
"We're lucky with the way that it stands now for Scotland," said the 25-year-old from Glasgow.
"We can tap into the English system and be part of Team GB when it suits us and use it our advantage. Independence would mean we would lose that. That's only going to see sports suffer."
For Scotland to become an Olympic nation in its own right, it would need to fulfil several criteria:
To be an independent state recognised by the international community

To have a solid sporting structure, such as national federations, sports clubs, etc

To have at least five national federations affiliated to international federations with sports included in the Olympic programme
"We meet that criteria," insisted Robison.
She said that being recognised by the United Nations as an independent nation "won't be an issue", citing the example of Montenegro.
Part of the former Yugoslavia, Montenegro became an independent country in 2006 and competed at the Beijing Olympics in 2008.
It is not known at this stage what a Scottish Olympic team might mean for other sports in which British teams compete - the Davis Cup in tennis, for example.
In response to Robison's claims, the British Olympic Association (BOA) said it would wait until the results of the referendum to address the issue.
"At this point in time, Team GB comprises athletes from all four home nations," said a BOA spokesperson.
"Many athletes, including Scottish ones, have contributed to our Olympic success and we always strive to recognise the valuable contribution made by the home nation's athletes.
"Until the referendum has been held, we won't know the outcome and possible consequences for a British Olympic team. Once we have those facts, we will address them."
Fifty-five Scots competed at the 2012 Olympics, accounting for just over 10% of Team GB's 542-strong squad.
They had a hand in 20% of British medals won - 13 out of 65 - and almost a quarter of golds - seven out of 29.
But if Scotland had fielded a separate team in London, it would have only been guaranteed three medals, with the other 11 coming in team events featuring both Scottish and non-Scottish athletes.
Andy Murray and Sir Chris Hoy won gold in tennis and track cycling respectively, while Michael Jamieson claimed a silver in the swimming pool.
Bankier, now based in Scotland after moving from the Team GB base in Milton Keynes, rejected suggestions the nation could attain significant Olympic success on its own.
"If you look at the Scottish athletes that actually live and train in Scotland, I think of the [London Olympic] medallists, you could narrow it down to just a few maybe three or four," she said.
"The majority are in GB systems, so I think it's a bit of a duff statistic.
"Scotland does have lots of talented athletes, but the opportunity to be part of GB means we'll be high up the medal table.
"I'm sorry to say that wouldn't happen if we went independent."
Despite Bankier's claims, the chief executive of Badminton Scotland, Anne Smillie, believes independence would benefit Scottish badminton players.
"The GB programme failed to produce a medal in Beijing and London," said Smillie. "We have serious doubts about the viability of the Rio plan currently delivered in Milton Keynes.
"Badminton Scotland could run a successful Scottish Olympic programme, depending on funding.
"If we became independent then we would be in a good position. It would allow the Scottish performance team to regain control of the training programme for our top players."
SportScotland, an agency responsible for sport development, said some Scots might need to continue training outside the country to remain competitive.
"It's conceivable that, should the people of Scotland vote for independence, members of the Scottish Olympic and Paralympic teams could continue to have their training and coaching sessions in England, or indeed elsewhere in the world," said spokesman Will McLeish.
For example, he said that SportScotland was "working tirelessly" with the governing body of Scottish cycling to ensure Scottish cyclists got access to the "right competitions and training programmes".
But he added that finding a solution for slalom canoeing was "more of a challenge" because Scotland does not have facilities up to the standard of Lee Valley, where its canoeists currently train in England.
Bankier also said it would be a "shame" if Scottish athletes, including herself, were denied the opportunity to compete for Team GB in future.
But Robison said Bankier would be able to choose whether to represent Scotland or Team GB.
"I would be entirely happy for the matter to remain with individuals in terms of which team they wanted to compete for," she said. "Many will be participating for Scotland in the Commonwealths next year."
The British government has yet to respond on the issue.