Sporting mothers: From kids on the team coach to winning a marathon

By Eleanor Oldroyd
BBC presenter
Last updated on .From the section Olympics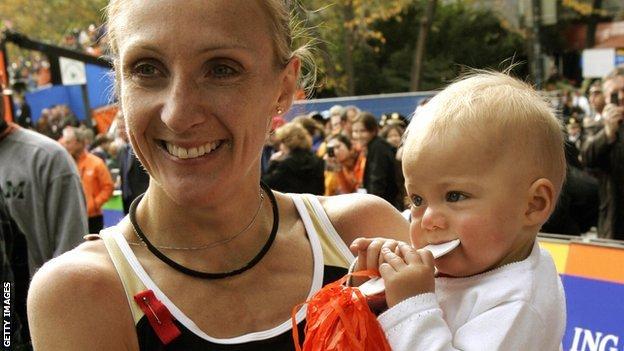 Planning - it's one of the keys to being a successful athlete.
Here's how a four-year cycle surrounding London 2012 might have looked for a few of our elite sportswomen:
2011: Reach top five in world rankings. Train hard. Build to peak.
2012: Go to Olympics. Win medal.
2013: Get pregnant. Have baby.
2014: Return to competition. Begin build-up to Rio.
Some of Britain's most successful performers at last year's Olympics appear to have followed that plan to perfection so far.
Paralympic cyclist Dame Sarah Storey, rower Anna Watkins and event rider Zara Phillips all swapped training sessions for ante-natal classes in the 12 months after their medal successes, with Storey giving birth to baby Louisa in June.
But, as most women of child-bearing age know only too well, things don't always go to plan when it comes to bringing new life into the world.
Finding the right time, and the right partner, can be hard enough when you're a 'normal' woman in a 'normal' career, let alone dedicating your life to achieving sporting glory.
For Tasha Danvers, a medal at the Athens Olympics in the 400m hurdles was her dream. She'd married her coach, Darrell Smith, in 2003 and was in great shape.
But in spring 2004, she discovered she was pregnant. As a married woman, she'd always wanted to start a family, but as a professional athlete, the timing couldn't have been worse.
Torn with conflicting emotions, Danvers and her husband considered terminating the pregnancy.
Danvers said: "We drove to the abortion clinic, and we were getting ready to go in. But I just couldn't do it - I broke down crying because that means I'm giving up my dream by not going ahead and having an abortion."
The physical effects of pregnancy can also be tricky to cope with, especially for sportswomen used to being in control of their bodies. Most will opt to carry on exercising and even competing, rather than the 'lying on the sofa, eating biscuits' option favoured by many mere mortals.
Multiple Olympic equestrian medallist Mary King rode in the European Championships when five months pregnant, Arsenal and England footballer Katie Chapman continued non-contact training well into her three pregnancies, and Storey felt her first contractions just after a session on a static bike.
Plenty make successful comebacks after giving birth, too. Tanni Grey-Thompson, Paula Radcliffe and Liz McColgan were all high-profile mums on the track. Radcliffe won the New York marathon 10 months after giving birth to her first daughter, Isla.
More opt to postpone motherhood until their top-level sporting careers are over, or reaching their end - Arsenal and England captain Faye White gave birth to son Lukas last October, and announced her retirement in March, at the age of 35.
But team-mate Chapman wanted to have her children as early as possible - Harvey was born when she was 21, Riley five years later, and Zachary in June. She continued to play club football, returning to the field within weeks of giving birth, and travelling to away matches with her boys accompanying her on the team bus, with other Arsenal players providing an impromptu creche on the back seat.
She has relied on family support throughout. Her international career hit the buffers when, during a particularly complicated period in her family life, she asked coach Hope Powell for time out from the England squad. Within hours her central contract was cancelled by the Football Association.
The FA says its family policy has changed since 2010, but how far do governing bodies feel they should support female athletes who decide to have children while still active competitively? Most working women can expect some kind of maternity rights, including paid leave and the right to return to work. But to what extent does that apply to sportswomen, in an era when many are professional, and rely on Lottery funding?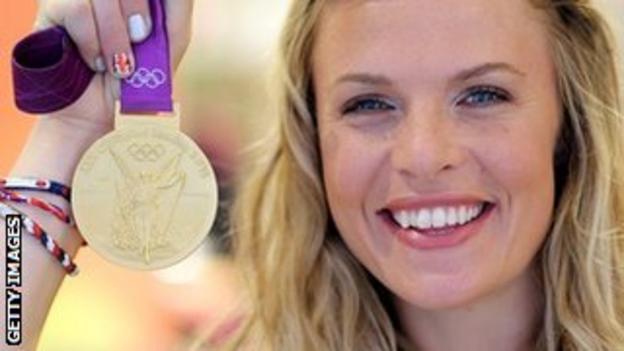 Olympic champion Watkins, due to give birth to her first child soon, has survived without funding from British Rowing, a situation she understands, as she hasn't competed in 2013. She knows it has probably been easier for her than it might have been for other athletes, as she has been able to take advantage of the opportunities for work her gold medal gave her.
Danvers, meanwhile, gave birth to son Jaden after the Athens Olympics and resumed training, with Beijing in her sights. She finally achieved her Olympic dream in 2008 by winning a bronze medal in the 400m hurdles, but by that point her marriage had broken up, and she returned as a single mum to Britain to aim for London 2012.
After a brief spell when Jaden lived with her family in Birmingham, and his mum commuted to London to train, both decided it would be best for him to live with his dad in America.
During that period, Danvers became severely depressed and attempted suicide. Eventually she admitted defeat in the battle to get fit for London and returned to America, where she is the proudest of mothers.
Talking to her on the phone from Los Angeles, it's clear she has reached a happy stage in her life, and believes the sacrifices were worthwhile, leading to not only an adored son, but an Olympic medal.
Most women, of course, understand that when you have a child, you have to accept financial sacrifices and career compromises. And it's no different for most sportswomen.
But as governing bodies consider how to support those who opt to combine motherhood with a sporting career, they might look at it as a long-term investment. These children, after all, might just be the Olympic champions and World Cup winners of the future.