Lax drugs testing risks Olympic ban - Thomas Bach
Last updated on .From the section Olympics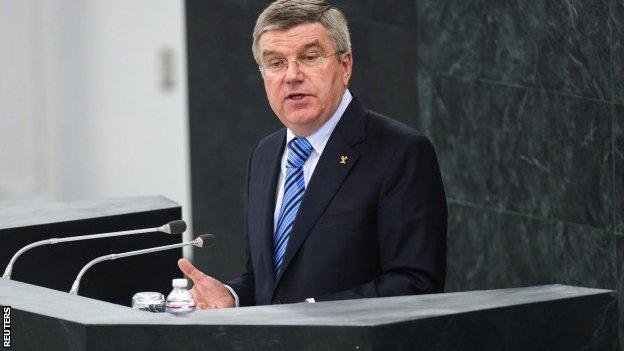 Jamaica and Kenya risk being banned from future Olympic Games if their drugs testing programmes fail to come up to scratch, International Olympic Committee chief Thomas Bach has warned.
"The Wada code is very clear," Bach told BBC Sport. "Countries which are not compliant can be excluded from events including the Olympic Games."
Sprinter Asafa Powell is one of several Jamaicans to test positive recently.
Meanwhile Kenya's government and Olympic federation are yet to confirm that a task force to investigate allegations of a doping culture in their set-up, promised 12 months ago, has been established.
Wada travelled to Jamaica in October to audit the country's testing procedures and said it was "very frustrated" by the apparent lack of progress in Kenya.
Bach said the International Olympic Committee would not shy away from acting if Wada found either nation were "non-compliant".
He added: "We can only sanction if we have a non-compliance declaration by Wada."
The Olympic Charter states that all National Olympic Committees must "adopt and implement" the World Anti-Doping Code with competitors, coaches, trainers and all officials obliged to "respect and comply in all aspects".
A ban would prevent innocent athletes such as Kenyan 800m Olympic champion David Rudisha and Jamaican sprinting great Usain Bolt competing.
Along with Powell, twice 200m Olympic champion Veronica Campbell-Brown and London 2012 4x100m relay silver medallist Sherone Simpson were left out of Jamaica's team for the World Championships in August after failed drugs tests.
After the spate of positive results, former Jamaican Anti-Doping Commission (Jadco) executive director Renee Anne Shirley claimed it had conducted just one out-of-competition test in the five months leading up to the 2012 Olympic Games in London.
Shirley also told Sports Illustrated that when she took up her role with Jadco in July 2012 the organisation did not have a whereabouts officer to track athletes out of competition and had been restricted by out-of-date testing kits.
Dr Paul Wright, Jadco's most senior drugs tester, added that Powell, Campbell-Brown and Simpson's failed tests may be the "tip of the iceberg".
Former Wada president Dick Pound admitted the organisation may have been "a little slow on the uptake" in monitoring Jamaica and Kenya's testing programmes were less stringent than required.
In his address to the World Conference on Doping in Sport, Bach promised there would be more tests at Sochi 2014, to be staged in Russia in February, than any previous Winter Olympics.
There will be a total of 2,453 tests around the Games, up from 2,149 four years ago in Vancouver.