Match-fixer Wilson Raj Perumal 'influenced Olympic matches'

By Richard Conway
BBC Radio 5 live sports news correspondent
Last updated on .From the section Olympics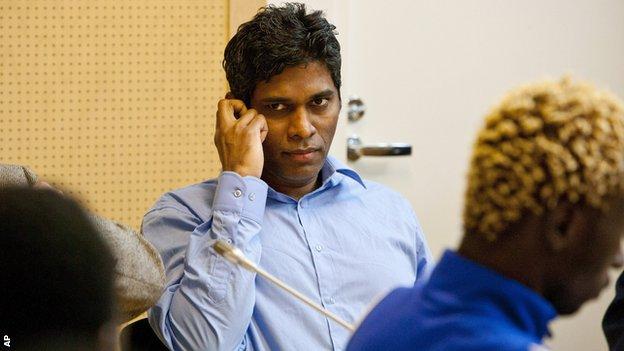 Convicted football match-fixer Wilson Raj Perumal claims to have successfully influenced elements of games at the Beijing Olympics in 2008.
In a new book published on Monday, Perumal claims he arranged for players from one team at the Games to ensure their side took the kick-off in two separate matches.
The 48-year-old Singaporean and his associates then allegedly profited by placing large bets with bookmakers.
The claims appear to demonstrate the risk of so-called 'spot-fixing' in sport, where attempts are made to influence specific elements of a game such as the number of corners or throw-ins.
The publication of Kelong Kings, written by Perumal in conjunction with two Italian journalists, comes after he was arrested in Finland last week, when police acted on an international arrest warrant issued by authorities in Singapore.
Perumal also alleges that, in conjunction with other fixers, he targeted matches at the Atlanta Olympics in 1996.
Substantial bets were then placed with bookmakers in Asia.
He first made a claim about the Atlanta Games to a Singapore newspaper in 2012, when he told them he had fixed a specific game.
However, in Kelong Kings, Perumal states he also attempted to corrupt players in other matches at the Olympics.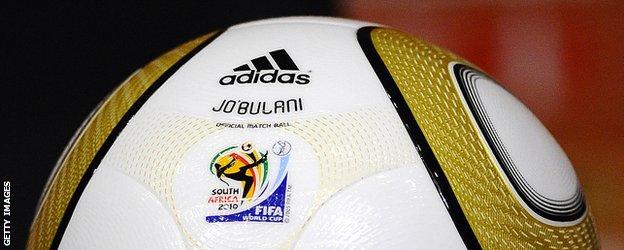 Perumal also details how he attempted to bribe Mexico goalkeeper Jorge Campos at the Atlanta Games by giving him $300,000 (about £178,000) in cash - only for the player to refuse his offer and leave the hotel room where the pair were meeting before calling for security.
The book also contains allegations that Perumal influenced qualifying for the 2010 World Cup in South Africa.
BBC Sport has attempted to put the claims made by Perumal to the parties implicated in his book, but so far they have not responded.
However the Nigeria Football Federation issued a statement saying Perumal's claim that he helped the Super Eagles to qualify for the 2010 tournament were "hogwash".
The revelations come as police in the United Kingdom continue separate investigations into alleged fixing within matches in both the Football League and non-league football.
Both the International Olympic Committee (IOC) and Fifa, the body that governs world football, are among those who have yet to respond to Perumal's claims.
The publication of Kelong Kings comes ahead of a major report into the scale and scope of sport corruption, sports betting and betting fraud.
The global investigation, undertaken by the Sorbonne University in Paris with the International Centre for Sport Security, is scheduled to be released next month.
However, Interpol gave a hint of the problem posed by match-fixing when it announced last February that a Singapore-based syndicate had directed fixed matches in at least 380 soccer games in Europe alone, making 8m euros (£6.6m).

A further 300 suspicious matches were identified in Africa, Asia and Latin America, including qualifying games for the World Cup and European Championship, as well as Champions League games in Europe.
Both the IOC and Fifa have recently expressed concerns about the risk posed by match-fixers and have tried to protect the integrity of sport by implementing specific measures intended at combating corruption.
In addition to the Olympics, Perumal, who, for a time, directed his operations from a flat near Wembley Stadium, claims to have targeted a number of World Cup qualifiers, international friendlies, competitions and numerous league games in several countries.
In a thorough chronology of his purported activities, he explains the methods he employed to approach players and officials, as well as the duplicity between match-fixers as they travelled the globe attempting to rig games for financial gain.
The book, which is being self-published online by the authors, also focuses on previously reported allegations that Perumal organised for bogus African national teams to play and lose friendlies against international opponents.
Kelong Kings also lists unsuccessful attempts to bribe two Premier League players in the mid-1990s and failed attempts to corrupt two referees at the World Cup in 2010.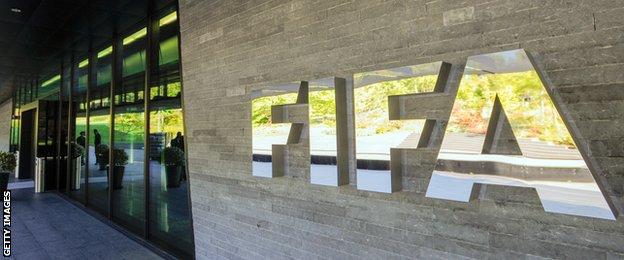 There is also information about how Perumal duped the South African Football Association to allow him, through a company of his, to organise several warm-up friendly matches for their national team prior to the 2010 World Cup in order to rig elements of the games.
A Fifa investigation into those matches, published in 2012, stated that the games between South Africa and Thailand, Bulgaria, Colombia and Guatemala in the weeks leading up the tournament had been fixed.
An investigation by the South African FA is understood to be ongoing, but there is no suggestion that the teams involved, or their officials, were involved in any attempts to corrupt the outcomes of the games.