Skateboarding: could it succeed as an Olympic sport?
By Paul Battison
BBC Sport
Last updated on .From the section Olympics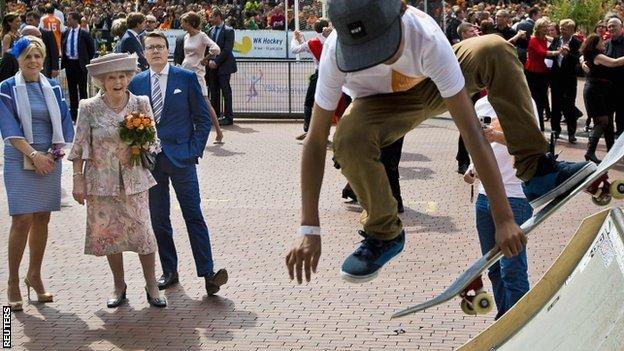 Extreme sports such as snowboarding lit up the Winter Olympics in Sochi, so is it time for the summer games to embrace such sports?
With attitudes changing and the International Olympic Committee looking to expand and capture a more youthful, exuberant audience, a door has been opened for sports that offer something fresh and unconventional.
Indeed, skateboarding star Tony Hawk recently told American talk show host Larry King that skateboarding is "very likely to be at the 2020 Olympics".
A group looking to seize the moment is the International Skateboarding Federation (ISF), who regulate skateboarding worldwide.
It has applied to the IOC to be officially recognised - the first step to joining the Olympic programme.
Mike Jacki is the secretary general of the ISF and thinks recognition from the IOC could change the entire landscape of the sport. "The benefit will be worldwide, it will be impacting, it will be powerful and it will affect the entire industry," he said.
"There are thousands of football fields and tennis courts all over Europe - they'll start building skate parks with the IOC's recognition.
"There will also be coaching structures put in place for kids, just like they do in all other sports."
This is not the first time that skateboarding has applied to become an Olympic sport. Plans were put forward in 2007 and 2011 under the auspices of cycling's world governing body, the UCI, but never came to fruition.
Jacki hopes that this time, under the governance of the 77-nation, the application will be successful.
"I think we have that appeal and a cultural opportunity to provide an environment that is going to be sustainable and very exciting for the IOC," he said. "I'd like to think that because the IOC has embraced snowboarding, they will review our application in a positive way."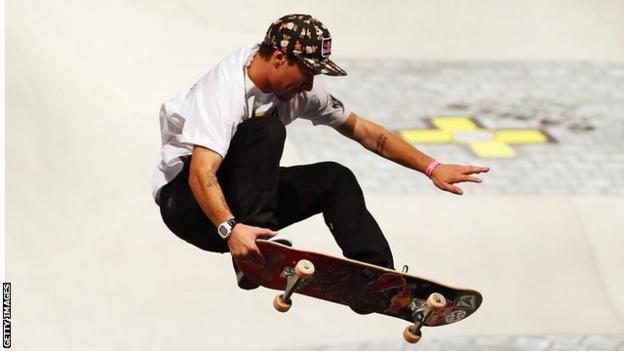 Chris Cole is a professional American skateboarder who is excited at the possible prospect of competing at the Olympic Games.
The 32-year-old is one of the most recognisable stars in the boarding community, winning numerous gold medals at the X-Games - an annual event for extreme sports.
"I can see it as an Olympic sport, because millions of people do it and millions of people love it," said Cole.
"It would be absolutely incredible to compete at the Olympic Games. You have a bucket list in life of memories you'd like to make, and this is definitely one I'd like to have checked off on my bucket list."
The early signs are that the IOC is warming to the idea. For the first time in history, skateboarding and a handful of other sports will get a taste of the Olympics at this summer's youth games in Nanjing. Skateboarding, roller sports, sport climbing and wushu will all be presented for the first time as demonstration sports in China.
The discipline is also making an impression in England, with a national governing body currently being set up.
Skateboard England will seek to manage, develop and promote the sport, increase participation and develop a coaching and judging pathway. It will also create and control a country-wide competition structure.
"The governing body will be funded like all other governing bodies," said James Hope-Gill, who is behind the move. "This is mainly through a membership scheme. We are currently putting together a package that skateboarders will find attractive enough to want to be a part of."
Lucy Adams, a professional skateboarder, coach and a director of Skateboard England, says the popularity of the sport is also increasing among women.
"There are more and more females taking it up," she said. "Recognition from the IOC might encourage even more to skate."
Currently, there are an estimated 30 million people worldwide who skate at least once a week. Not all want the sport to become recognised by the IOC, however, and there are a lot of professionals opposed to the idea, too.
Many suggest the freedoms and individuality provided by skateboarding would be lost if it became an Olympic sport, with an online petition attracting 3,368 signatures.
"I think it's an argument to be had, for sure," said Cole. "I don't want the sport to become too commercial either - I want kids to skate because they love it, not for money.
"But the growth of the sport and letting this treasure get out to the masses of people who haven't seen it before is more important than anything."
There is also a debate as to whether skateboarding should be in the Olympics because many consider it an art form rather than a sport.
"To them it would be like putting music, art or dance in the Olympic Games because they are different entities - they are art forms," said Jacki.
"There are a great number of skaters who don't skate competitively because you don't compete in art - you appreciate it, but you don't say 'what score would you give this?'"
Adams agrees and says any integration into the Olympics must be done with care. "I wouldn't particularly like skateboarding to be like snowboarding is. where it is very competitive," she said. "Skateboarding's not about that so I'm not sure how it could be judged."
Should the ISF's application to the IOC be accepted, there would be plenty of time to address those concerns, though, as it would likely be a decade before skateboarding makes its debut at the Olympics. This is because the IOC all but confirmed the sports taking part in Tokyo 2020, when it reinstated wrestling to the programme last year.
It might be a while, then, before skateboarding appears and there are still plenty of obstacles to overcome, but under the guise of the ISF, the wheels are definitely in motion for it to happen eventually.