Olympics: Athens venues lie empty as tenth anniversary nears
Last updated on .From the section Olympics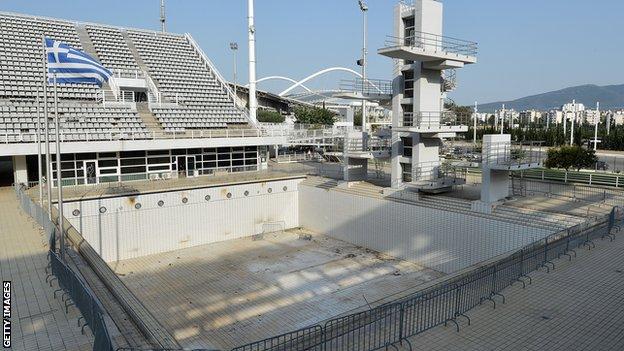 Athens' Olympic venues lie empty and disused as the tenth anniversary of the Games approaches.
Greece spent over £7bn on the Games, yet the canoeing and aquatics centre are now completely dried up.
"The Games were a lost opportunity, no doubt about it," admits former Athens 2004 spokesman Stratos Safioleas.
The news will come as a warning to both London and 2016 Rio de Janeiro, which has already come under fire from the IOC for its "worst ever" preparations.
The return of the Games to the Olympics' spiritual home was widely hailed as a success at the time, but many Greeks now view the Athens Olympics with anger as a contributing factor to the country's economic crisis.
The Games cost almost twice their projected budget, with organisers not opting to use any temporary, collapsible venues, as other host cities have done.
Like the Athens Olympics, which began 10 years ago on 13 August, the Rio Games have been rebuked by the International Olympic Committee for lagging well behind schedule.
Last year, a House of Lords report also cast doubt on the legacy of the 2012 London Games, warning that the Olympic stadium was not being "used to the full".