Youth Olympics: Rwandan teenagers cycling out of poverty
By Caroline Rigby
World Service Sports reporter
Last updated on .From the section Olympics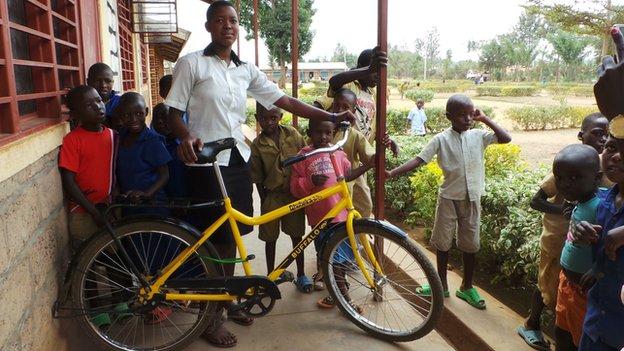 2014 Youth Olympics
Venue:
Nanjing, China
Dates:
16-28 August 2014
Coverage:
Daily highlights (09:00-10:00 and 16:00-17:00 BST from 17-28 August) on BBC Red Button; text reports and select medal-winning action on BBC Sport website and BBC News Channel. BBC One review 18:00 on 30 August
"My schoolmates never really used to value riding a bike, especially if you were a girl," says Benitha Uwamariya as she sits in the headmaster's office at her school.
"But because of the level I have reached, because they've seen me go to the African Youth Games and now the Youth Olympic Games, they feel that this is something that is very big and they think that now they can also try to ride a bike and get involved."
Uwamariya, 18, and Clementine Niyonsaba, 17, are Rwanda's first female cyclists to compete at the Youth Olympic Games. Friday's road race is their main target in Nanjing, China.
Bicycles are part of the fabric of life in rural Rwanda, but for men not women. A heavy, single speed frame and two wheels can provide a lifeline for people living on or below the poverty line in the country's rural communities.
Bikes are used to transport goods to market. Mountains of potatoes or bananas appear to defy all laws of science as they balance precariously on the back, dwarfing the rider.
The bike-taxi - customers receive a "backie" in exchange for a small fare - is the main form of public transport for people unable to afford the cost of car travel. A number of the men's national team began their cycling careers as bike-taxi drivers - but it is not seen as a job for women.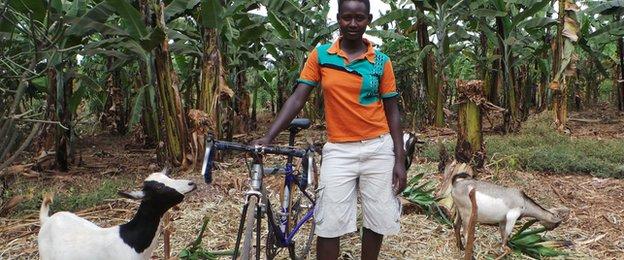 "It is very rare to see a girl on a bike," says Kimberly Coats, the women's coach for Team Rwanda.
"The family is not going to purchase a bike for a girl. They will purchase a bike for a boy so he can haul crops or he can be a bike-taxi driver, but for girls they don't see the point."
This cultural mentality frustrates Coats, who moved to Rwanda from the United States in 2009. She sees the bicycle as a tool for change and believes it can help girls escape poverty.
Rwanda boasts impressive figures for women in leadership positions and has the highest proportion of female MPs of any country in the world. Women moved into positions of power after the genocide of 1994, which left the population skewed to the extent that just 30% were male. Yet today the vast majority of women in the landlocked east African nation remain desperately poor.
Coats believed the humble bicycle could make a difference. She joined forces with Rwanda's biggest cycling star, Adrien Niyonshuti, to secure 200 bikes for the cycling academy that he set up in his home town of Rwamagana, situated an hour east of the capital Kigali.
They were provided by the South Africa-based pro-cycling team MTN-Qhubeka, for which he rides. All went to children of school age - 40% to girls.
"The reason we got those bikes in Rwamagana is that they allow girls to get to school," explains Coats.
"What they found is that girls who have bikes stay in school longer, don't get pregnant out of wedlock and tend to delay marriage. So having a bike can absolutely change a girl's life."
Barely a year ago, Uwamariya was spotted at the side of the road by the coach at Niyonshuti's academy. At the time she was wearing a black skirt and red blouse, an outfit that hardly screams "athlete". But the coach saw potential in the teenager and offered her one of his precious bikes.
"The first time I got on a bike was in July 2013. It means so much to me, because it has seen me visit so many places and meet so many people," she said.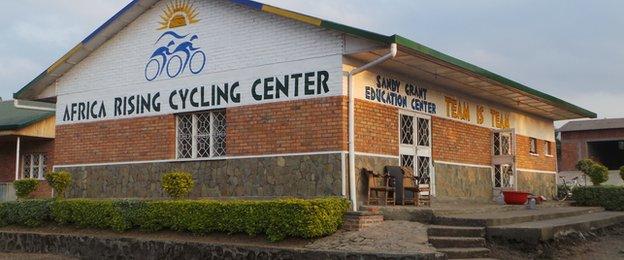 "The first time I cycled I fell off so many times and swore never to go back on a bike. But I thought about it and I thought that in life you get difficulties but then you get up again and continue doing something because you love it. So that's what happened to me, I got back on the bike and now see where I am.
"The first day I told my parents that I really liked the cycling, it was difficult. But I also told them that when I continue cycling, it will get me to a better life."
Uwamariya has been able to buy cows and is now looking to build a house with the money she has earned from bike competitions. Things that would have been out of her reach before.
Equally importantly, more so perhaps, it has enabled her to attend school and finish her education.
"It used to take me two hours to walk from home to school but now with a bicycle I can ride in one hour. I get to school on time and it means so much to me because it shows me the future is bright and that I can do anything because I have a bike. There are so many people, girls and boys, from my home town who don't go to school because it's very far away."
Uwamariya and her team-mate are unlikely to win a medal at the Youth Olympics. For them, the fact they have made it to the start line is achievement enough. Their coach says the goal is for them to finish the road race within the allotted time.
But one thing you quickly learn from spending time with these two schoolgirls is that they aim high. As with the generation of women before them, they have big goals and want to reach new heights.
Success, according to Uwamariya, will be nothing less than a podium finish: "I am not scared of anything ahead of the Youth Olympic Games. I believe I am going to use all the effort that I used [at the 2014 African Youth Games] in Botswana and more.
"Because I did not get a medal in Botswana, I am going to get it at the Youth Olympic Games. The only thing I will look at as success is if I come back with a medal."
Benitha was speaking to Caroline Rigby for "Sportsworld" on the BBC World Service. Caroline's full report on how the bicycle is helping to provide new hope to a generation of girls in Rwanda is available to download.