Rio 2016: IOC happy with Olympic preparations - as dead fish found
Last updated on .From the section Olympics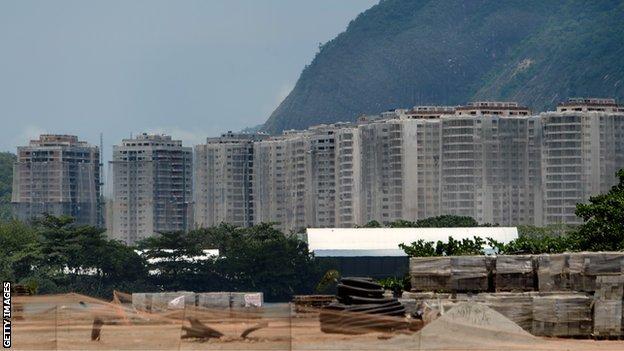 Rio de Janeiro is making "solid progress" in its preparations for the 2016 Olympics, according to the International Olympic Committee (IOC).
The IOC's Coordination Commission visited the host city this week and reports that "venues are taking shape".
However thousands of dead fish were discovered in the Guanabara Bay - the sailing venue - on Tuesday.
The fish may have died from drought, but government officials said hitting water pollution targets is "not easy".
The venue has previously caused concern because of the levels of garbage and untreated sewage in the water.
Last month government officials admitted they would miss their target of an 80% reduction in water pollution by the start of the Olympics next August.
Rio governor Luiz Fernando Pezao admitted reducing pollution and meeting other targets was "challenging".
"It's not easy," he said. "Every time we have a negotiation, the bidding process [for the project] slows and postpones things."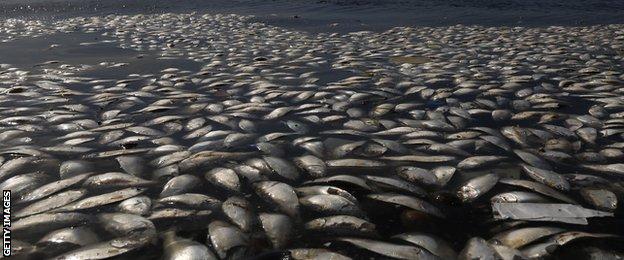 The latest IOC inspection took place over three days this week. Commission chair Nawal El Moutawakel added the two Olympic Parks being built are "on track to leave fantastic legacies to the people of Rio".
El Moutawakel acknowledged that substantial work remains in order to ready the city for a series of test events this year.
"The Rio team is now entering the most intense phase in the preparation for the Games, as they reach a new level of detail while planning numerous test events," she said.
"The golf course, velodrome and equestrian cross-country venues all have very aggressive timelines that will need to be met over the coming months."