Cyclone Pam: 'Devastation has ended my motivation for Rio 2016'
Last updated on .From the section Olympics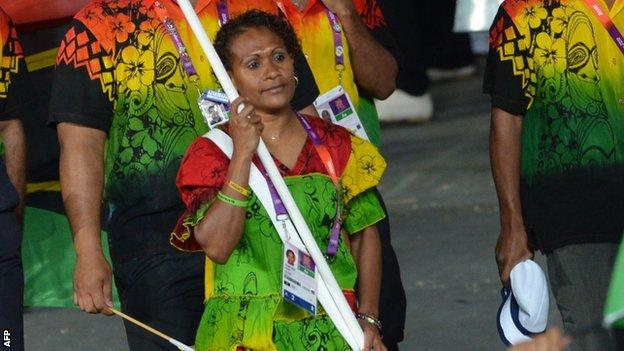 In the early hours of Saturday, 14 March the remote South Pacific island of Vanuatu was hit by Cyclone Pam.
The category five tropical storm swept across the small nation of 250,000 inhabitants, leaving 11 confirmed dead and devastating the country.
At her home in the capital Port Vila was table tennis player Anolyn Lulu, Vanuatu's flag bearer at London 2012, who has given an account of how the disaster unfolded and its impact on her preparations for the 2016 Olympic Games in Rio de Janeiro.
It took two weeks for the BBC's World Service programme Sportshour to get through to Lulu, 36, on a phone line that worked.
Roofs were flying off houses
I couldn't believe what I saw. All the trees were down, no more trees standing up.
From where my house is, I can see houses where I've never seen them before. It was frightening.
The effect on ordinary people's lives is massive because many of them, and most of our neighbours, have lost what they had before.
They lost their house and they lost their gardens where they get all their food and everyday meals from. We all lost water, we don't have good drinking water and our infrastructures are gone. It has caused us a lot of damage for most of the things that normally go on in our ordinary lives everyday.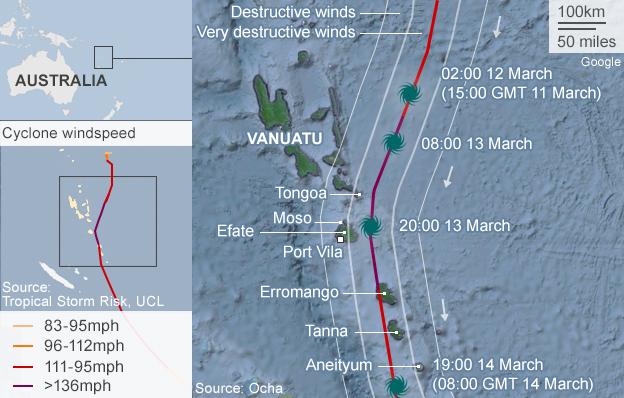 The cyclone season in Vanuatu is between November and April and we've not had a cyclone for quite a long time. The ones we've had in the past are very small and we've never seen roofs come off houses - just flying off - and the power points have all gone down.
Back in 1987 we had one cyclone that strong but for this one they said it was a monster and it is true because it's caused a lot of damage that we've never seen before.
We can't believe that this cyclone caused all this damage. How can we rebuild our community, our place again? It will cost us because of what damage has been caused.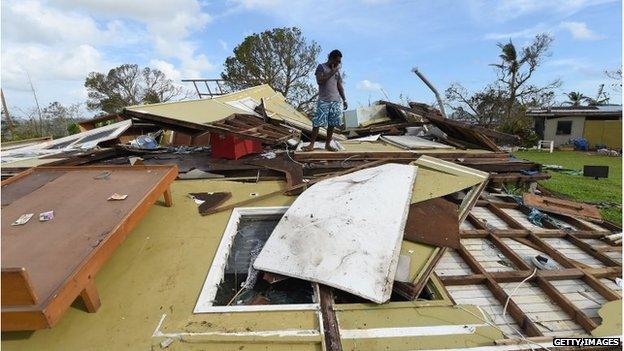 The countries close to Vanuatu have seen what Vanuatu has gone through because of the pictures and the news. The neighbouring countries are still in the country helping us out. Even two weeks after Pam has left us, they are still here.
Australia, New Zealand, Fiji and the French territory of New Caledonia are still here helping out the people.
I've seen and I've heard a lot of bigger countries coming in to help. We can see big aircraft like the Red Cross landing and we have other countries also sending aircraft, bringing in aid for our country. As far as the USA, they always help, so a lot of bigger countries are helping out at this stage.
It's not safe for us to train here
Our sporting facilities are all damaged and it costs us athletes. Seeing the facilities now, they're not safe for us to train in. For example, the gymnasium for my sport table tennis has been damaged and I feel not motivated at all to train in such an environment.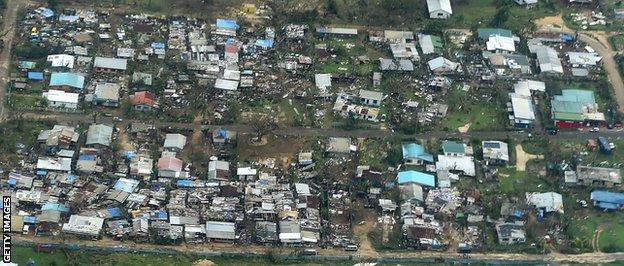 It's just not safe for us to train there. It will cost us some time. We have upcoming tournaments and it will take time for us to rebuild again and start training in a proper and good environment.
In 2012, I had prepared hard and I was mentally and physically ready but for now it will take time. My motivation is not there anymore and I was just asking one of our colleagues how can we get motivated after seeing our facilities broken down and we have three months to prepare for an international event.
It is really very discouraging for many of us and for me personally, it is hard because I prepared really well for 2012 and I knew I was ready for the event, but for Rio I'm not ready and I don't feel motivated at all.
I know from my colleagues that other Olympians feel the same. I think the government and the national Olympic organisation need to look at it very seriously because we have only a few months left to prepare for Rio and with the facilities we have now, we can't.
We will have to wait for another three or four months to train in a proper facility and if they make an arrangement in other neighbouring countries for us to go and train there, that alternative would be very good for us because at this stage here it is really very bad for us athletes to train in such an environment.
Anolyn Lulu

Voted Vanuatu's Athlete of the Decade (1999-2009)

Represented Vanuatu in three Commonwealth Games (2006, 2010, 2014)

Lulu was team manager of the Vanuatu table tennis team

In 2010 Lulu was awarded an IOC trophy for inspiring young people
I have high hopes for athletes from Vanuatu to train overseas. I believe strongly that the International Olympic Committee or other authorities in other countries will allow our athletes to prepare for Rio. I just hope and I wish it will work out this way.
We have to stay positive
The one thing we are thankful for is that we are alive after Cyclone Pam because it was a very strong cyclone and it was frightening.
But we thank God that we have made it through. The other thing is for us to start building again to get back our interest in the sport. We have to build ourselves mentally, get ourselves back where we were before, and we can still survive.
The only thing for me to do now is encourage women and athletes and girls. Just encourage everyone to continue to play sport, whatever environment they are in.
They can play because it is part of our health so we have to have physical activity as part of our exercise just to help our fitness and for our girls to continue to have a positive mindset that Pam has gone and we have a life to lead, a goal to achieve and our dreams to make.
So we have to focus on our dreams, focus on our goals and continue to live everyday.
Anolyn Lulu was speaking to BBC World Service's Ed Harry.