Tokyo 2020: 'Stadium roof should be ditched for Olympic Games'
Last updated on .From the section Olympics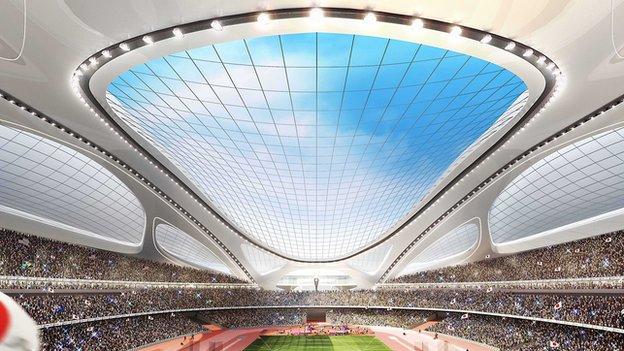 Tokyo's Olympic Stadium should ditch its plan for a retractable roof to save money, says Japan's sports minister.
Hakubun Shimomura also wants 35% of the seats at the 80,000-capacity stadium to be temporary to further cut costs and shorten construction time.
The £867m facility is poised to be the centrepiece of the 2020 Olympic Games and 2019 Rugby World Cup.
Designed by Iraqi-British architect Zaha Hadid, the proposed arching roof would rise 70m into the air.
Shimomura, who says construction of the retractable roof should be delayed until after the 2020 Olympics, also wants the city of Tokyo to contribute to the costs.
He said: "We have been in talks with the contractors. We hope to present a precise budget and plan by the end of the month."
Rising labour and construction costs have forced Tokyo organisers to rethink its plans for the main stadium, to be built on the site of the now-demolished arena that hosted the 1964 Olympics.
Its initial budget of £1.8bn had already been scaled back, while the original design would have been three times bigger than London's 2012 Olympic Stadium - it is now only twice as big.
London's stadium was built with only 25,000 permanent seats within its 80,000 capacity. It is currently undergoing a £190m refit into a 54,000 arena and is set to host five matches when England stages this year's Rugby World Cup from September.
Premier League club West Ham United will then make it their home from the 2016-17 season.