Sepak takraw chief wants 'foot-volleyball' sport at Olympics
Last updated on .From the section Olympics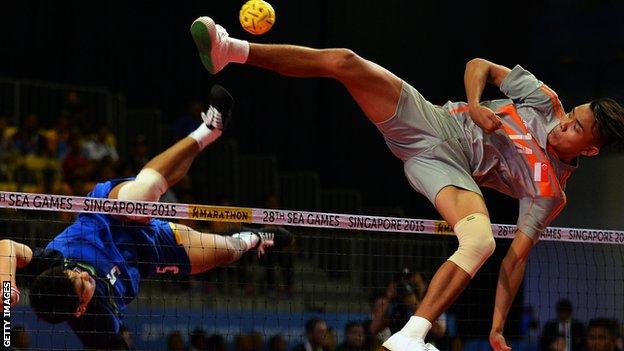 It is a sport played by hundreds of thousands yet unknown to millions - and now it is seeking a place on the Olympic stage.
Sepak takraw - a type of foot-volleyball - has been hugely popular in south-east Asia since the 1940s and is currently wooing crowds at the Southeast Asian Games in Singapore.
Now the International Sepaktakraw Federation (Istaf) wants the sport to have greater worldwide exposure.
Itsaf secretary general Abdul Halim Kader says international Olympic Committee president Thomas Bach is a fan of new and exciting sports.
"Whether that gets us in the Winter or Summer Games, I don't mind, said Halim Kader. "We would gladly take part in either."
Basic guide to sepak takraw
Two teams of three either side of net 1.52m high on a court of similar size to that used in badminton.
The ball is made of synthetic fibre or one woven layer, with 12 holes and 20 intersections.
Feet, knee, head and chest can be used to control the ball - spectacular overhead and bicycle kicks are often performed to win points.
First to 21 points wins a set. Matches are best of three sets.
Thailand and Malaysia have dominated the event in recent years.