European Games 2015: Ireland's Aileen Reid sixth in triathlon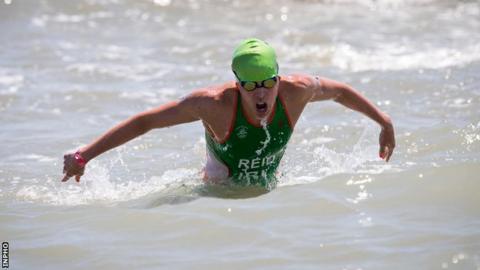 Ireland's Aileen Reid finished sixth in the triathlon on the first day of the European Games in Baku.
The 32-year-old Derry woman had been hoping to give the 55-strong Irish team a great start by winning a medal in Saturday's race.
Her time of two hours, three minutes, 30 seconds was three and a half minutes slower than winner and Olympic champion Nicola Spirig of Switzerland.
Rachel Klamer of the Netherlands was second and Sweden's Lisa Norden third.
Heather Sellars of Great Britain finished in 15th place.
The 24-year-old former Channel swimmer from Leeds was cast adrift of the main group early in the run.
Sellars said: "Once the girls got away up front it was hard to chase them down. I really wanted a top-10 finish but I'm happy with my performance."
Ireland's Reid had expected a better result after a stellar season that saw her claim fourth place in the World Triathlon Series race in London last month.
"I prepared properly for these Games and I was feeling good - I was expecting higher than sixth," she said.
"But I don't feel sorry about not finishing first because I did my best and I came in the top 10."
Reid's place at next year's Rio Olympics is already all but secure after her rise in the world rankings to sixth.
Armenians' hostile reception
There was an intimidating atmosphere as hosts Azerbaijan and neighbours Armenia went head to head in a Greco-Roman wrestling bronze medal match.
In an arena named after the late Azerbaijani president Heydar Aliyev, during whose reign a border dispute between the two nations escalated into all-out war in the 1990s, home favourite Elman Mukhtarov was roared to a 9-1 win over his visiting opponent Roman Amoyan.
Amoyan was heavily booed before and during the one-sided contest, a reaction that echoed the reception afforded a seven-strong Armenian delegation when it entered the Olympic Stadium during Friday night's opening ceremony.
Azerbaijan and Armenia are technically still at war, having failed to sign a peace deal since a conflict over the disputed Nagorno-Karabah region which cost an estimated 30,000 lives. Both sides repeatedly blame the other for breaches of an uneasy ceasefire.