Olympic Games: Snooker misses out on 2020 Tokyo place
Last updated on .From the section Olympics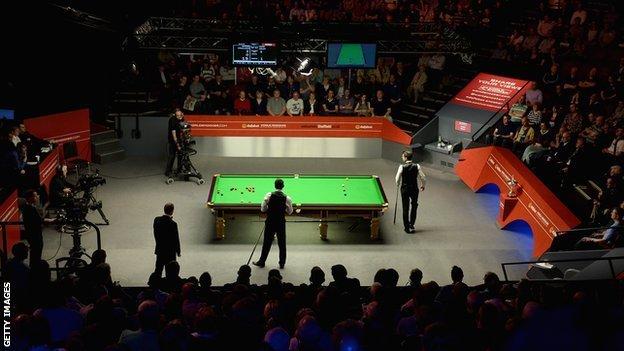 Snooker has failed in its bid to be included in the Tokyo 2020 Olympics, while karate and surfing make a shortlist of possible extra sports.
The World Professional Billiards and Snooker Association argued it should be accepted because of worldwide appeal.
But it missed out, along with bidders including bridge, chess and netball.
The eight shortlisted federations are: baseball/softball, bowling, karate, roller sports, sport climbing, squash, surfing and wushu.
The 18 to miss out are: air sports, american football, bowls, bridge, chess, dancesport, floorball, flying disc, korfball, netball, orienteering, polo, racquetball, snooker, sumo, tug of war, underwater sports and water skiing.
All eight federations will now progress to a second stage of the application process, which will include the submission of further details by 22 July before briefings to organisers due to take place in Tokyo on 7 and 8 August.
As part of reforms initiated by International Olympic Committee (IOC) president Thomas Bach last year, Games hosts have the chance to bring in one or more sports popular in their country to boost ratings and attract greater sponsorship.
Baseball and softball, united under the World Baseball Softball Confederation (WBSC), are considered favourites to return to the Olympics for the first time since Asia last hosted the Summer Games, in Beijing in 2008.
"This is a great day for our sport," WBSC president Riccardo Fraccari said in a statement.
"Today baseball and softball - and the millions of athletes and fans who call it their sport - reached first base."
In September, organisers will recommend one or more of the sports to the IOC for inclusion in 2020, with the final decision in August 2016.
Shortlisted sports
Baseball/softball - Combined bid of men's baseball and women's softball. Both sports hugely popular in Japan.
Bowling - Not to be confused with bowls, covers tenpin and ninepin bowling. Officials collected nearly one million signatures from Japanese bowlers in support of their bid.
Karate - Has never been contested at the Olympics. Judo, its fellow homegrown martial art, first joined in 1964, when Tokyo last hosted the Olympics, and was included from 1972 onwards.
Roller sports - Governing body covers areas such as roller hockey and artistic skating.
Sport climbing - Last year sport climbing was chosen by the IOC as a demonstration sport at the Youth Olympic Games in Nanjing, China.
Squash - Turned down for a main place at the 2020 Olympics, squash is pointing to a strong tradition in Japan, including current leading juniors Satomi Watanabe and Ryunosuke Tsukue.
Surfing - International Surfing Association hailed its shortlisting as a "milestone" and claims it has a "unique and modern blend of high performance, style and culture".
Wushu - Commonly referred to as kung-fu, the collective term for the martial art practices which originated and developed in China.