European Games 2015: Great Britain claim three swimming golds
Last updated on .From the section Olympics
Great Britain won three gold medals and a bronze on the opening day of swimming action at the European Games in Baku.
Abbie Wood, 16, won the 400m individual medley before 15-year-old Holly Hibbott was victorious in the 800m freestyle.
Duncan Scott, Martyn Walton, Dan Speers and Cameron Kurle then combined to win the 4x100m freestyle relay, taking Team GB to 11 golds and 22 medals in total.
Darcy Deakin, Maddie Crompton, Hannah Featherstone and Georgia Coates took the women's 4x100m relay bronze.
The swimming - like the diving - is a junior event. It features women up to the age of 16 and men up to the age of 18.
Wood said: "It's my first European medal so I'm really excited about it. It's a surreal feeling."
The 16-year-old won the 400m individual medley crown in a time of four minutes 41.97 seconds, more than two seconds ahead of Italy's Ilaria Cusinato and Serbia's Anja Crevar, who won silver and bronze respectively.
Buxton swimmer Wood qualified fastest for the final and the win doubles up to make her European Junior Champion.
"I was pretty confident from the heats but it hurt so I wasn't sure if I could go any faster. Yet I knew everyone would step it up for the final so I had to as well and the pressure was on," she said.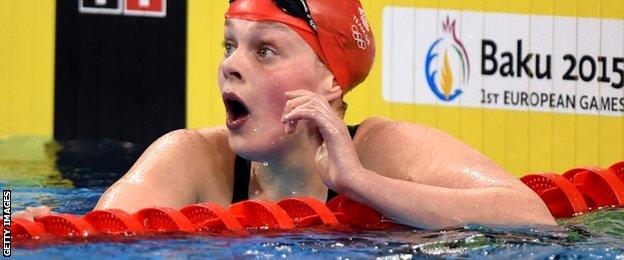 Hibbott, from Southport, pulled ahead of silver medallist Anastasiia Kirpichnikova in the final 100m to win in a time of 8:39.02, just 0.71 seconds ahead of her rival.
She said: "I think this is definitely the highlight of my career so far and it inspires me to go on in the future and do more.
"I didn't really expect to win gold but I was hoping that I could do it. I saw Abbie earlier and she did really well. I was so happy for her."
Hibbott then told BBC Sport her dream is to follow in the footsteps of 2008 Olympic gold medallist Rebecca Adlington and 2014 Commonwealth champion Jazz Carlin, who have dominated the event in recent years.
"They have been my idols and I want to go and copy what they've done," she said.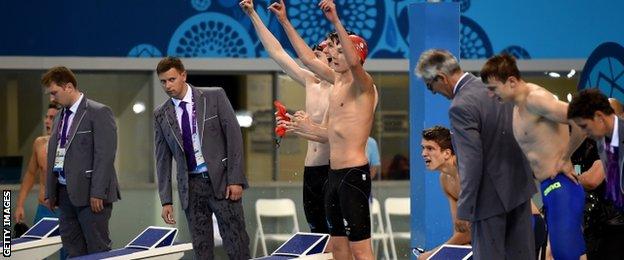 Great Britain also claimed the men's 4x100m freestyle relay gold with a time of 3:19.38 despite only qualifying fifth fastest for the final, while Italy won silver and Russia bronze.
Scott said: "The boys came in tonight and we all stepped up and knew we had something in us and we delivered when it mattered which is really good."
Walton added: "It's a great first night with three gold medals and a bronze and we are really happy with that as a team."
Elsewhere, Great Britain are guaranteed two more boxing medals.
Sandy Ryan overcame a partisan crowd to reach the women's light welterweight semi-final with a win against Azerbaijan's Elena Vystropova - a two-time world championships medallist for the host nation.
Josh Kelly also reached the semi-finals with a win over Ireland's Adam Nolan in the men's welterweight category.
Two GB fencers were both beaten by Romanian opposition in the last 16 however, as Corinna Lawrence lost 5-12 in the women's epee against Amalia Tataran, and James Honeybone lost to Tiberiu Dolniceanu in the men's sabre.