European Games 2015: Footballer skips son's birth for Baku
Last updated on .From the section Olympics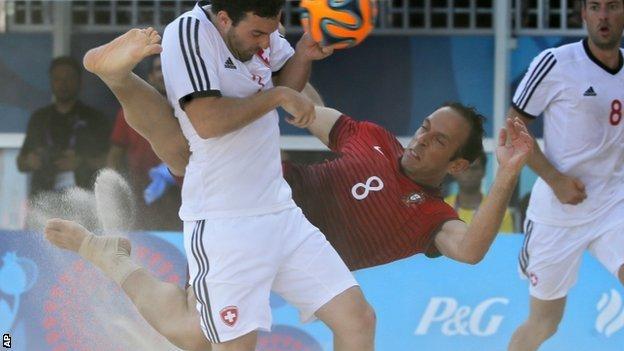 Portuguese beach footballer Jose Maria Fonseca scored twice in a 6-5 win against Switzerland in Baku - then stayed up to watch the birth of his son live on his mobile phone.
Fonseca says he hopes his son will understand "we have to run after our dreams" in years to come after deciding to compete in the European Games rather than be present for the birth.
And Fonseca, who became a father for the first time, said he cried tears of joy.
"I was crying all the time. But it was perfect. It will be more amazing when I have him in my arms," he said.
His wife Anna had asked the 32-year-old to miss the inaugural European Games in Azerbaijan to stay at home for the birth.
He added: "It wasn't easy. But it's very important for me to represent my nation and I thought it's important for my son to understand we have to run after our dreams. And this is a dream for me."
But the forward also said he was "very happy and very sad at the same time" after missing the birth.