European Games 2015: Katie Taylor makes final on split decision
Last updated on .From the section Olympics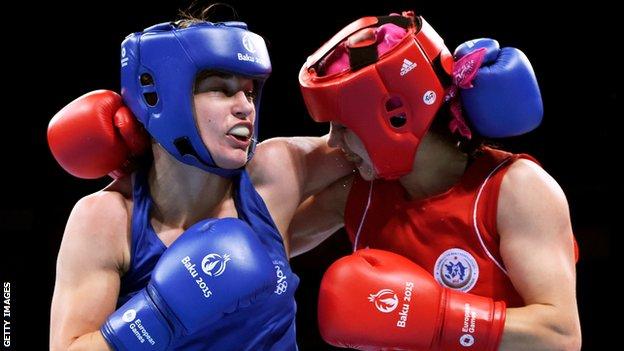 Ireland's Olympic champion Katie Taylor beat Azerbaijan's Yana Alekseevna on a split decision to edge through to the women's lightweight final at the European Games in Baku on Friday.
In a close-fought battle five-time world champion Taylor, 28, was pushed to the limit by Alekseevna.
The three judges all scored the bout 38-38 but two of them opted to give Taylor the final decision.
She will fight France's Estelle Mossely in Saturday's final.
The bout was a rematch of the clash between Taylor and Alekseevna at the World championships in South Korea last November, which the Bray woman won easily.
This encounter was the complete opposite however, with Taylor having to chase victory right up to the final bell.
Although Taylor appeared to have settled into her rhythm early on, Alekseevna was in front by a point after the first round.
Taylor upped the pressure in the second round to even up the bout on the scorecards, with Alekseevna only showing herself as an attacking force with a late flurry.
The bout swung back in Alekseevna's favour in the third round. Although Taylor landed the heavier shots, Alekseevna's workrate outpaced that of Taylor and judges had the local woman back in front.
The fourth round saw Taylor go for broke with a spot in the final clearly hanging in the balance and Irish woman showed her class and guile to take the round, and ultimately the fight.
The Irishwoman has also won six successive European gold medals and has not lost a fight since a controversial defeat at a multi-nations tournament in Bulgaria in 2011.
Bulgaria's Denitsa Eliseeva was given the verdict in that bout and Taylor has avenged that defeat on three occasions - including in Sunday's last-16 contest in Baku.