Rio can deliver 'outstanding' Olympics, says IOC
Last updated on .From the section Olympics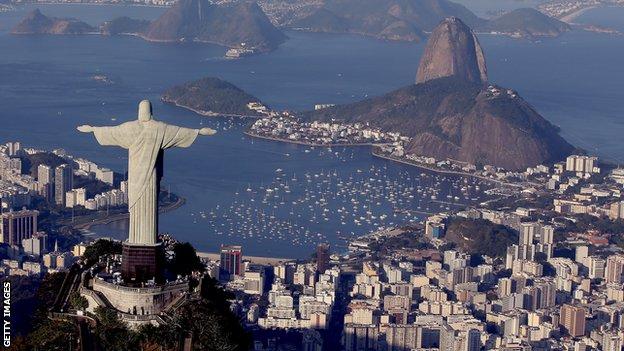 Rio can deliver an "outstanding" Olympics according to the International Olympic Committee, following four test events the city can be "proud" of.
But IOC officials have played down concerns over the water quality where the sailing, swimming, rowing and triathlon events will be held in 2016.
The World Health Organisation has suggested the IOC monitor pollution levels in the water.
IOC vice-president Nawal el Moutawakel said athletes' safety is a "priority".
El Moutawakel insisted the issue of water quality is being addressed, so the athletes can "compete in a secure and safe environment".
The international governing bodies of sailing and rowing have called for tests on the water quality.
An independent investigation by the Associated Press found high levels of viruses and, in some cases, bacteria from human sewage in all of Rio's Olympic and Paralympic water venues.
AP says the World Health Organisation (WHO) had advised the IOC to test for viruses, but have now changed their stance and would not issue an official recommendation.
The IOC said it had ruled out viral testing and would stick to WHO guidelines, which recommend only bacterial testing.
Rio has hosted test events for volleyball, triathlon, rowing and equestrian with road cycling on Sunday.
Moutawakel said: "This demonstrates the organisers' capabilities and their capacity to deliver outstanding Olympic Games next year."
But she warned "a tremendous amount of planning work remains to be completed".