Inderjeet Singh: Indian shot put champion blames positive drug test on conspiracy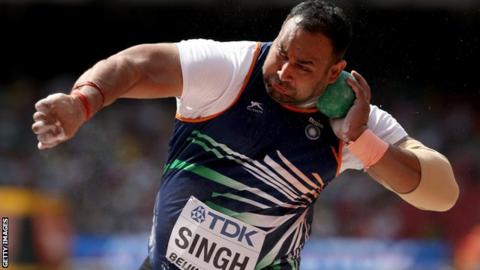 Indian shot put champion Inderjeet Singh believes he failed a drugs test because of a "conspiracy" against him.
The 28-year-old tested positive for a banned substance just days before heading to the Olympic Games in Rio.
He claimed the result was orchestrated to stop him speaking out about politics in Indian sports, saying: "Their intention is to shut me up."
Navin Agarwal, director general of India's anti-doping agency, denied samples could have been tampered with.
Singh said he denied "all the allegations of doping that I am accused of".
"I am being targeted and it's a clear case of conspiracy against me," he said. "My sample has been tampered with
"I have been speaking out against the politics in sports in India and how badly athletes are treated and their poor training facilities, and this has riled many powerful people in the country."
Singh is the second Rio-bound Indian athlete to fail a doping test after wrestler Narsingh Yadav, 26, last week tested positive for a banned steroid.
Yadav has also denied wrongdoing, claiming his food supplements were spiked.
"I believe that there is foul play involved in this entire episode," he told India's NDTV station.
No sanctions for the pair have been announced, and Singh has been asked if he would like to have a second sample tested.