Rio 2016: Kohei Uchimura gets £3,700 Pokemon Go bill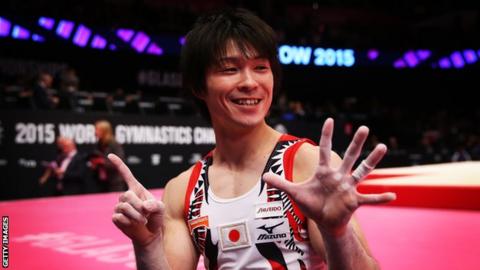 Olympic gymnast Kohei Uchimura racked up a £3,700 mobile phone bill playing Pokemon Go in Rio.
The 27-year-old Japanese, who won all-around gold at London 2012, incurred data roaming charges playing the augmented reality game after arriving in Brazil for this month's Games.
After receiving the bill, Uchimura "looked dead at the team meal that day", team-mate Kenzo Shirai said.
However, his phone company has agreed to let him pay a daily flat rate.
It means Uchimura, who is favourite to retain his title, will be charged 3000 yen (£22) per day for mobile use abroad instead of the 500,000 yen (£3,700) he thought he would have to pay.
"I really lucked out," the six-time all-around world champion told Japan's Kyodo news agency.
Pokemon Go has become a global phenomenon since its launch last month.