Rio 2016: Gymnast Samir Ait Said breaks leg during Olympic vault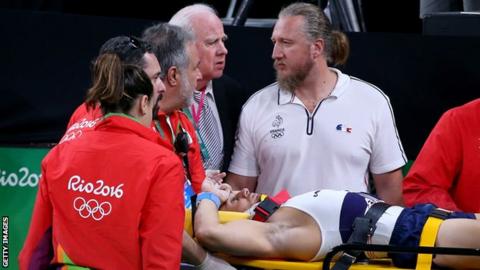 French gymnast Samir Ait Said suffered a horrific leg break while performing in the vault at the Rio Olympics.
The 26-year-old's left leg folded beneath him as he landed badly during the men's qualification event.
Said, who won gold on the rings at the 2013 European Championships, was taken off on a stretcher and acknowledged the crowd as he departed.
French team leader Corrine Moustard-Callon said: "We don't know what happened, except it was his tibia."
She added: "He is in the hospital with a doctor now. We will do more exams to see if it is just the bone.
"It is very difficult for the team. He was one of the friendliest on the team which is very difficult. He came to win a medal and gave everything."
United States gymnast Danell Leyva, the 2012 Olympic all-around bronze medallist, said other gymnasts had told him not to look at Said's broken leg.
"Even though we're on different teams, we know each other and I've known Samir since I was 14," said Leyva. "It really sucks, but we have a job to do."
Highlights footage and photos of the injury are too graphic to be shown on the BBC Sport website.