BBC Sport - Rio 2016 Olympics: Ireland's Rio story will rumble on after great Games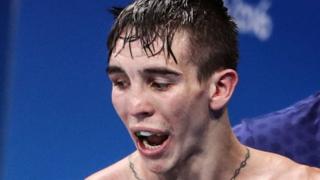 Ireland's Rio story far from over
Pat Hickey's arrest overshadowed Ireland's efforts at an Olympics which will be remembered as a great Games despite its many flaws, says BBC Sport NI's Nigel Ringland.
"The moment it was announced that Michael O'Reilly had failed a drugs test, the wheels came off the wagon (for the Irish boxing team)," adds the BBC Sport NI journalist.
"To round off Ireland's boxing woes, Michael Conlan's Olympic dream was shattered by judges who watched a different fight to everyone else.
"But the arrest of Olympic Council of Ireland president Pat Hickey will overshadow everything (for Ireland). The story of Olympics 2016 for Ireland will not finish when the team returns home. There are plenty of chapters still to write.
"Given the low spectator attendances, transport problems and other logistical issues, Rio 2016 will not be remembered as the greatest Games. They were however a great Games."