Tokyo 2020: Japan earthquake and nuclear disaster site could host Olympic events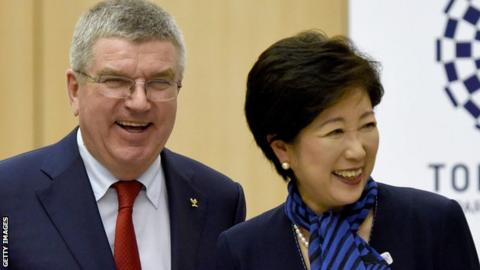 Tokyo 2020 Olympic events could be held in part of Japan hit by the 2011 Fukushima earthquake, tsunami and nuclear disaster in a bid to cut costs.
Rowing canoe/kayak sprint events and baseball/softball are among sports that could be moved 400km north of Tokyo.
The International Olympic Committee is holding talks with organisers after a review showed costs could exceed £23bn ($28bn) - four times the estimate.
But IOC president Thomas Bach said "we have to respect" athletes.
"The athletes are the heart and soul of the Olympic Games," Bach emphasised.
The IOC began four-party discussions with the city government, Tokyo organisers and Japan's central government on Tuesday in a bid to reduce spending on the Games.
The proposal to move some sports to the north-eastern area of Japan devastated by the earthquake was made in a review of expenses commissioned by Tokyo Governor Yuriko Koike.
The review recommends moving some sports from planned new venues to existing ones.
Several events have already been moved outside of Tokyo, with cycling now due to take place 200km from the village in the Shizuoka district.
Bach said he was confident cost reductions could be made, but suggested Tokyo should try to stay close to its original bid proposal of keeping the majority of venues within 8km of the athlete's village in the city's downtown.
He said moving events to the earthquake-hit area was one of several cost-cutting options being discussed, and that it could "contribute to the regeneration" of the region.
The most expensive Games to date are the London Games at £12bn and the Sochi 2014 Winter Games in Russia which cost £17.7bn.
The Rio Olympic Games cost £9.7bn, coming in 51% over budget despite cuts to ceremonies, venues and staff.
According to a recent study, no Games since 1960 has come in under budget.